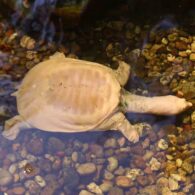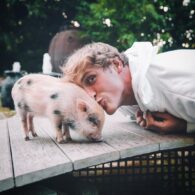 Pearlbingbing
Logan Paul adopted a mini-pig named Pearlbingbing with his former girlfriend and Marvel Actress Chloe Bennet in 2018. After breaking up, the pig stayed with Logan Paul.
Logan Alexander Paul is an American YouTuber, content creator, actor, rapper, boxer, and professional wrestler who was born on April 1, 1995. He's most well know as social media personality and content creator, with over 30 million combined followers across social media platforms. He has a younger brother named Jake, who is also a YouTuber, content creator, rapper, and professional fighter. The brothers often work and create content together.
Logan Paul started creating content for social media in the early 2010s and quickly gained followers on the now-defunct social video platform Vine, which led to growth for his YouTube and his other social media accounts. After dropping out of university in 2014, where he was majoring in industrial engineering, he focused on a full-time career in social media and content creation.
In the mid-2010s with hundreds of millions of views, he started an acting career with small guest roles in series such as Law & Order: SVU and in advertising campaigns for brands such as HBO and Pepsi. In the late 2010s, he started a short career in boxing, which saw him have one professional match against fellow YouTuber KSI in 2019 and a PPV broadcast of an exhibition match with top boxer Floyd Mayweather Jr in 2020. In 2021, Logan Paul started his career as a professional wrestler with the WWE. Also through the late 2010s, he released a series of singles as a rapper.