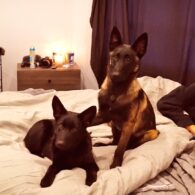 Lil Moo and Thor Puppy Paul
Jake Paul has two dogs. A Newfoundland breed named Lil Moo and a golden retriever named Thor Puppy Paul. He describes Lil Moo as a SoundCloud rapper, miniature cow, and also sexy. He describes Thor as special, lazy, and definitely special. Thor was rescued from the side of the road by Jake Paul.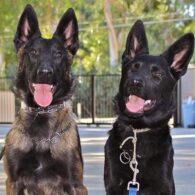 Apollo and Athena
Before Lil' Moo and Thor, Jake Paul had two dogs named Apollo (black and brown) and Athena (black), which were both Belgian Malinois. Jake had wanted to be a Navy Seal when growing up, with Navy Seals' using Belgian Malinois as their service dogs. Apollo was too aggressive and would attack members of Jake's team and was sent away for dog training for seven months. After Apollo returned, Jake wasn't able to properly care for the high-energy working dog and rehomed him. Athena was also rehomed.
Jake Paul is an American social media personality and professional boxer. Paul grew up in Westlake, Ohio, with his older brother Logan Paul, who is also a YouTuber and internet personality. He initially rose to fame on Vine, before playing the role of Dirk Mann on the Disney Channel series Bizaardvark for two seasons. Throughout his career, Paul has become the subject of many controversies due to his behavior including engaging in risky stunts, sexually suggestive behavior, featuring age-inappropriate material for YouTube, getting fired from Bizaardvark, and being charged with criminal trespass and unlawful assembly.