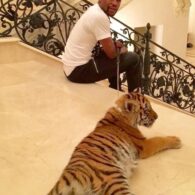 Rare Exotic Tiger from India
Collector of supercars, jets, diamond-encrusted iPhones, more cars, and wads of cash, Floyd Mayweather also managed to adopt himself a pet female tiger. The adoption has resulted in some backlash from notable celebrities such as supermodel Chrissy Teigan and other animal activist groups like PETA. Let's hope Mayweather has been taking care of this majestic beauty since her adoption.
Floyd Mayweather, born February 24, 1977, is an American boxer. Best known showing off his extravagant wealth on social media, Mayweather also happens to be considered one of the best boxers of all time. Undefeated as a professional and five-division world champion, Mayweather has won twelve world titles in four different weight classes. He is also a two-time winner of The Ring magazine's Fighter of the Year award in 1998 and 2007. During his career, he was well known for outrageous bets such as betting $10,000,000 on himself, then going out and spending his winnings at the local strip club.
Floyd Mayweather Jr. vs. Logan Paul
On December 6, 2020, Mayweather announced that he would fight internet personality Logan Paul in an exhibition match on February 20, 2021. The fight was postponed, and took place on June 6, 2021 at Hard Rock Stadium in Miami Gardens, Florida. The match was widely seen as a "cash grab" by the audience and members of the sport.