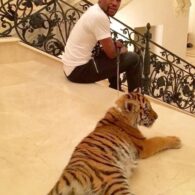 Rare Exotic Tiger from India (Tiger)
Collector of supercars, jets, diamond-encrusted iPhones, more cars, and wads of cash, Floyd Mayweather also managed to adopt himself a pet female tiger. The adoption has resulted in some backlash from notable celebrities such as supermodel Chrissy Teigan and other animal activist groups like PETA. Let's hope Mayweather has been taking care of this majestic beauty since her adoption. IZZYBALLIN (Dog)
We can only imagine how much Floyd Mayweather spent on his dog IZZYBALLIN. The pooch was filmed by Mayweather wearing red bottoms (allegedly) while Mayweather rocked 'cheap ass nike's' (his words, not ours). And, apparently, IZZYBALLIN only drinks water out of crystal glasses.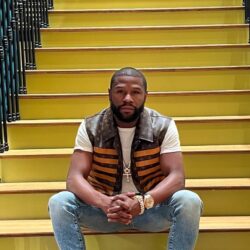 Birthday
February 24, 1977 (46)
Floyd Mayweather Jr's also known as Pretty Boy, Money, or TBE ("The Best Ever") and is an American boxer. He's known for his expensive taste (which trickles down to his pets, too) and showing off his extravagant wealth on social media, Mayweather also happens to be considered one of the best boxers of all time.
Floyd Mayweather Jr Boxing Career
Undefeated as a professional and five-division world champion, Mayweather has won twelve world titles in four different weight classes. He is also a two-time winner of The Ring magazine's Fighter of the Year award in 1998 and 2007. During his career, he was well known for outrageous bets such as betting $10,000,000 on himself, then going out and spending his winnings at the local strip club. He's also known for his rivalry with Manny Pacquiao.
Floyd Mayweather Jr. vs. Logan Paul
On December 6, 2020, Mayweather announced that he would fight internet personality Logan Paul in an exhibition match on February 20, 2021. The fight was postponed, and took place on June 6, 2021 at Hard Rock Stadium in Miami Gardens, Florida. The match was widely seen as a "cash grab" by the audience and members of the sport. Since there was such a weight disparity, there was no actual, official judging and neither man could go home with the official title of having won. Mayweather has since called the fight an exhibition, stating "I did an exhibition with the YouTuber Logan Paul. We had fun. People have gotta know, there's a difference between a real fight and an exhibition."
Controversy
The fight with Logan Paul has continued outside of the boxing ring, too. The YouTube star is accusing Mayweather with not paying him out. Apparently, Mayweather has claimed to have earned $100 million for the event, and Logan Paul has claimed to have not received his share of the even pay-per-view sales. "Pay me my money you f*cking cornball of a human," Paul posted on his Instagram story.
Logan Paul isn't the only one he's has had beef with. Floyd Mayweather Jr, following in Mike Tyson's footsteps, got a tiger and Chrissy Teigen didn't seem too happy about it. She tweeted, "I'm okay with people having pet tigers because it increases their chances of being eaten by a tiger". Mayweather come back relied on the old class-act trick of using misogyny, ""John Legend's wife said something? I've never had anything negative to say about John Legend. I really don't even know what his wife does."
Floyd Mayweather Spending
On top of the tiger, Mayweather has bought some pretty extravagant things, like a $25 million Los Angeles mansion, numerous private jets, and his own strip club. But, those all seem within the realm of 'normal'. Some of his more bizarre purchases include a $50,000 diamond iPod case, an $18 million watch called "The Billionaire", and a candy shop in his own home. Floyd Mayweather Jr also pays his personal chef — who is on call 24/7 in case he gets the midnight munchies — $1,000 a meal and his personal barber $1,000 a cut.