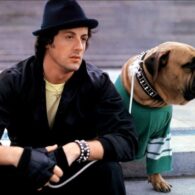 Butkus Stallone
Butkus was Stallone's bull mastiff and best friend who was named after legendary football player Dick Butkus. Apparently, Dick Butkus is the "fiercest football player" in history according to Sylvester Stallone. So, when the bullmastiff puppy ate his security blanket, Stallone named him Butkus, the ferocious-looking little devil. Stallone sold him for $40 to buy food when he was broke, but was able to buy him back for $15,000. After that, Butkus went on to star in two of the Rocky movies Rocky and Rocky II. He sadly passed away from a heart attack in 1981 but was loved greatly by Stallone — the actor said he's still his computer wallpaper.
Michael Sylvester Gardenzio Stallone is better known as Sylvester Stallone or occasionally, "Sly" Stallone. He's an American actor and filmmaker with an estimated net worth of $400 million. He is famous for leading the Rocky and Rambo film series, as well as the more recent Expendables film series. He's also noted for writing, co-writing or directing many of the films in these series. Stallone has numerous awards including a Golden Globe for his role in Creed though he was nominated for two for Rocky.
Sylvester Stallone's Dog Butkus
We've all been there — trying to make ends meet while in between jobs. Sylvester Stallone once found himself in dire straights before the Rocky series took off. Butkus, a beautiful bullmastiff dog, was sold by Stallone for $40 in front of a 7-eleven in early 1970s to put food on the table. As a struggling actor, he was trying to sell the script for Rocky and didn't have money to live. Once the film series was finalized, Stallone bought Butkus back for $15,000 and he then went on to star in two 'Rocky' films — Butkus, that is, not Stallone.
On Butkus, Stallone has said, "We got him when he was about six weeks old. He was a ferocious-looking little devil and when he ate his security blanket we decided to name him after Dick Butkus, possibly the fiercest football player in history. We became very well acquainted because, in addition to me, there was my wife Sasha and another giant dog, all living in the third tiniest apartment in New York." [Click here to read our full story on Butkus]
Stallone's dogs considered a factor in his divorce from Jennifer Flavin
In August 2022, Stallone adopted a rottweiler named Dwight. Later that month, his wife of 25 years, Jennifer Flavin, filed for divorce. The media first reported that Flavin not wanting to adopt Dwight was the reason for the divorce. Also, Stallone recently covered a tattoo he had of Flavin, with a tattoo of his famed dog Butkus. Stallone's representative refuted the tattoo debacle, saying that he covered up the tattoo of Flavin because of a botched touch-up to it. Stallone also made a statement that his marriage wouldn't end over something as trivial as a dog. Many assume Flavin not wanting the dog was just another disagreement in an already pending divorce.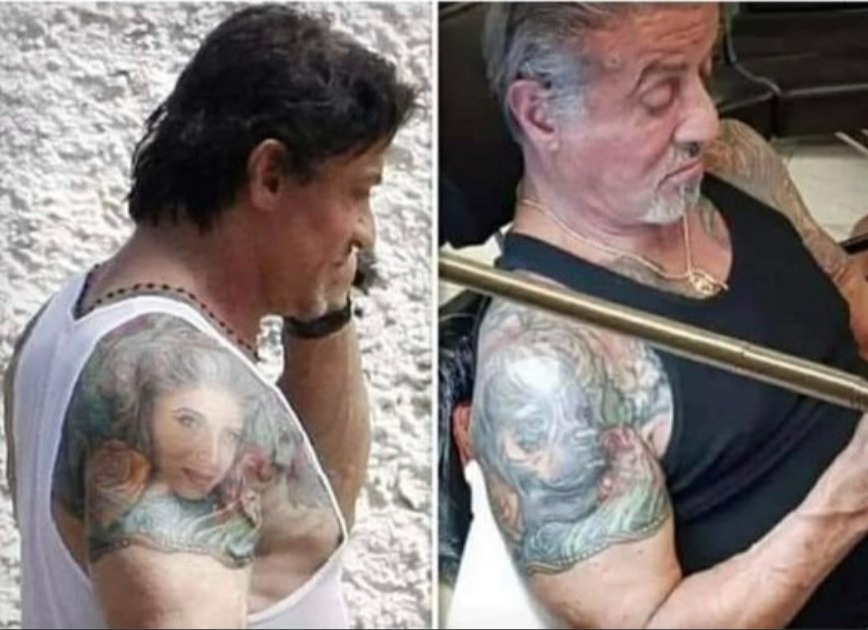 Career and the Rocky series
His acting career started with many small movie roles in the early 1970s. His first starring role was The Part at Kitty and Stud's (1970) which was soft core pornography that Stallone said he did while desperate for money. It was later rereleased as Italian Stallion to cash in on his fame after Rocky was released.
While a struggling actor, he was inspired by Muhammad Ali and wrote the script for the original Rocky film that was released in 1976. He tried to sell the script to many studios with no luck or was asked to have a famous actor play the lead. Eventually he was able to make a deal with a much smaller budget. Rocky was nominated for 10 Academy Awards, including Best Actor and Best Screenplay for Stallone himself. It ended up winning Oscars for Best Picture, Best Editing and Best Directing. This led to 6 Rocky movies in total, with one spin-off film Creed in 2015. Stallone wrote five and directed four of them.
His next iconic film franchise started in 1982 with Rambo: First Blood. It had three sequels with Stallone co-writing each of them. In the 1990s, he continued to be one of the biggest action movie stars, with blockbuster hits like Cliffhanger, Demolition Man, The Specialist, Assassins, and Cop Land. In 2009 he started the Expendables film series, with him writing, directing and starring in it. It followed up with two sequels and included fellow action stars such as Jason Statham, Arnold Schwarzenegger, Bruce Willis, Jet Li, Dolph Lundgren, Jean-Claude Van Damme, Chuck Norris, Wesley Snipes, and more.
Stallone's Daughters
Sylvester Stallone and former wife Jennifer Flavin have three daughters, with two already famous and succesful. Sistine Stallone is most like her father, following in his actor footsteps. She has starred in Midnight in the Switchgrass with Bruce Willis and Megan Fox. Sophia Rose Stallone has a successful makeup line and Scarlet Rose Stallone is a social media influencer. All three daughters were Golden Globe Ambassadors in 2017.