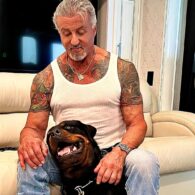 Dwight (Dog)
Sylvester Stallone currently has one dog: a Rottweiler named Dwight he adopted in August 2022. This dog was the center of controversy when adopted with speculation Dwight was the last straw in Stallone's 25-year marriage to Jennifer Flavin. The couple filed for divorce at the end of August.
Jennifer Flavin is an American model, entrepreneur, and business owner. She's most well known for her 25-year marriage to actor Sylvester Stallone, with the couple divorcing in August 2022. They had three children together, including Sophia Rose Stallone and Sistine Stallone. She started a professional modelling career with Elite Modeling Agency at the age of 19. She's also the co-owner of Serious Skin Care.
Sylvester Stallone's dogs involved in divorce controversy with Flavin
Flavin filed for divorce from Stallone in late August 2022, right after her disagreement with Stallone about his adoption of Dwight, a rottweiler. Around this time, Stallone also covered up a tattoo of Flavin with a tattoo of his famed dog Butkus. The media speculated the dog adoption was a deciding factor in the divorce, but Stallone said it was too trivial of a matter. Many assume it was possibly the last straw before Flavin went ahead and filed for divorce. A representative of Stallone said that a botched touch-up of the tattoo of Flavin led to it being replaced with his late dog Butkus.