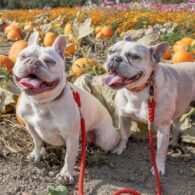 Penelope and Champagne
Jenn Chan has two French Bulldogs named Penelope and Champagne who you can find on Instagram at @2blondefreniches. And you can hear their story in our interview.
Jenn Chan is a Canadian photographer, content creator, and influencer based in Vancouver, B.C. She specializes in travel, food, and lifestyle content and landscape, real estate, headshots, and travel photography.