 No Pets (Zac Hanson)
Zac Hanson does not have any reported pets.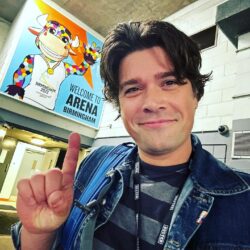 Birthday
October 22, 1985 (38)
Zac Hanson is an American musician and songwriter, best known as the drummer and youngest member of the pop-rock band Hanson.
Zac Hanson gained prominence as part of Hanson, a band he formed with his older brothers Isaac Hanson and Taylor Hanson. The band's debut album, "Middle of Nowhere," released in 1997, was a commercial success, featuring the hit single "MMMBop," which topped the Billboard Hot 100 chart. Over the years, Hanson has released several albums, including "This Time Around," "Underneath," and "Shout It Out."
Zac Hanson has worked with a variety of artists and celebrities. These include Weird Al Yankovic, who parodied "MMMBop" in his song "Jerry Springer," and Blues Traveler's John Popper, who played harmonica on Hanson's song "If Only." Additionally, Zac has performed with the likes of Carole King, Owl City's Adam Young, and Ed Robertson of Barenaked Ladies. Other notable collaborations include working with musicians like Andrew McMahon, Gavin DeGraw, and members of the rock band Tonic—Emerson Hart, Jeff Russo, and Dan Lavery. Zac has also been involved in charity events with celebrities like Kristen Bell and Rainn Wilson.
Over his career, Zac Hanson has received several awards and distinctions. The band's debut album "Middle of Nowhere" earned them three Grammy nominations, including one for Best New Artist. They also won a Billboard Music Award for "Top Selling Album" in 1997. In 2018, Zac and his brothers were honored with the Oklahoma Creativity Ambassadors Gala Award for their contributions to the arts.