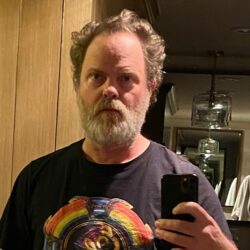 Birthday
January 20, 1966 (57)
Rainn Wilson is an American actor, writer, and producer, best known for his role as Dwight Schrute on the NBC sitcom "The Office" (2005-2013). One of Wilson's breakout roles came in 2003 when he portrayed Arthur Martin in the HBO series "Six Feet Under." The critically acclaimed series explored the lives of a dysfunctional family who run a funeral home in Los Angeles. Wilson's portrayal of Arthur, a mortician's assistant with an affinity for taxidermy, earned him critical acclaim and helped establish him as a rising star in the entertainment industry.
In 2005, Wilson landed the role of Dwight Schrute in "The Office," a character that would define his career and make him a household name. Dwight, a quirky and eccentric salesman at the Dunder Mifflin paper company became a fan favorite.
Aside from his work on "The Office," Wilson has appeared in numerous films and television shows throughout his career. He played a recurring role on the FOX series "Backstrom" (2015) and appeared in films such as "Juno" (2007), "Super" (2010), and "Cooties" (2014). Wilson has also lent his voice to several animated projects, including "Adventure Time" (2012-2017) and "The Meg" (2018).
Wilson has worked with several notable celebrities. He appeared alongside Elliot Page in the film "Juno," which won an Academy Award for Best Original Screenplay. Wilson also worked with Steve Carell, Angela Kinsey, Mindy Kaling, Ellie Kemper, John Krasinski, and Jenna Fischer on "The Office." He also starred in the film "The Rocker" (2008) with Emma Stone, Josh Gad, and Christina Applegate. In addition, he co-starred in the film "The Boy" (2015) with David Morse and Bill Sage.
Aside from his acting career, Wilson is also known for his advocacy for animals and animal non-profit organizations. He is a board member of the Mona Foundation, a non-profit organization that provides education and support to underserved communities. Wilson and his wife, writer Holiday Reinhorn, founded the non-profit organization LIDE Haiti, which focuses on education, community development, and reforestation efforts in Haiti.
Wilson's passion for health also led him to co-found the website and YouTube channel SoulPancake, which explores spirituality, creativity, and art. The website features videos and articles on a variety of topics, including animal welfare and advocacy.