 No Pets (Jessica Darrow)
Jessica Darrow does not have any reported pets.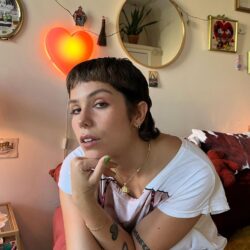 Birthday
January 7, 1995 (28)
Jessica Darrow is an American actress who gained considerable recognition for her outstanding performances in the realm of animation, particularly her role in the Disney feature film, 'Encanto.'
Darrow has brought life to a variety of animated characters, her voice becoming synonymous with vivid, memorable roles. She astounded audiences with her portrayal of Luisa Madrigal, the super strong, dependable sister in Disney's 'Encanto.' Yet, it is not just in animation that Darrow made her mark. Her extensive body of work also includes appearances in television series such as 'Law & Order: Special Victims Unit.'
Throughout her career, Darrow has collaborated with a diverse range of other artists and industry influencers. She worked with Stephanie Beatriz and John Leguizamo in 'Encanto,' creating a harmonic dynamic that resonated with audiences worldwide. Her partnership with directors Byron Howard and Jared Bush, along with co-director Charise Castro Smith, was instrumental in shaping the cinematic success that 'Encanto' became. She has also shared screen time with talented co-stars such as Ice-T and Mariska Hargitay on 'Law & Order: SVU.'
Her performance in 'Encanto' earned her an Annie Award nomination for Outstanding Achievement for Voice Acting in an Animated Feature Production.