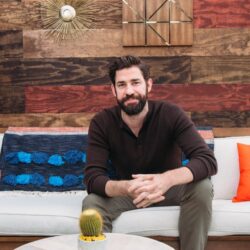 Birthday
October 20, 1979 (43)
John Krasinski is an American actor, director, producer, and screenwriter. He has received four Primetime Emmy Award nominations and won two Screen Actors Guild Awards. He was named by Time magazine as one of the 100 most influential people in the world in 2018.
Krasinski has also appeared in films including License to Wed (2007), Leatherheads (2008), Away We Go (2009), It's Complicated (2009), Something Borrowed (2011), Big Miracle (2012), Promised Land (2012), Aloha (2015), and the military action thriller 13 Hours: The Secret Soldiers of Benghazi (2016). He has performed voice-over work for documentaries and animated films such as Shrek the Third (2007), Monsters vs. Aliens (2009), Monsters University (2013), and the English dub of anime film The Wind Rises (2013).
He established a production company, Sunday Night Productions, in 2013. He is married to British actress Emily Blunt, who starred with him in A Quiet Place and The Wind Rises. They have two children together.