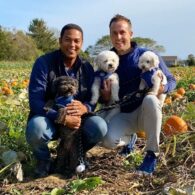 Boomer, Barkley, and Gus
Don Lemon and his fiancee Tim Malone, have three rescue dogs, all poodles, named Boomer, Barkley, and Gus. They first adopted Boomer (the black poodle) together in 2018 while dating. Next, the couple adopted Barkley and then finally Gus in March 2020. They're all inseparable, with the dogs often shown at Lemon's office at CNN. Before they got Gus, Boomer and Barkley were both a big part of their engagement, with Malone surprising Lemon with his proposal engraved on their dog tags (via Instagram).
Don Lemon is an American TV journalist. His career as a journalist started as a weekend news anchor in Pennslyvania and Alabama. He went on to work as a news correspondent for NBC, including the news shows NBC Nightly News and Today. His work for NBC earned him three Emmy Awards. In 2006, he became a news correspondent for CNN and went on to host CNN Tonight in 2014, replacing Piers Morgan's CNN show Piers Morgan Live. CNN Tonight was renamed Don Lemon Tonight in 2021.