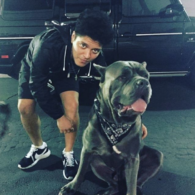 Geronimo
It is a good natured, devoted, obedient and Fearless dog. This breed is known for its hunting abilities. Bruno mars Cannot stop himself from sharing pictures and videos of his adorable dog. Geronimo has acquired a fan base too! Bruno Mars had shared a picture with fans of his puppy while apologizing for becoming "that guy" who posts shots of their pets on Twitter.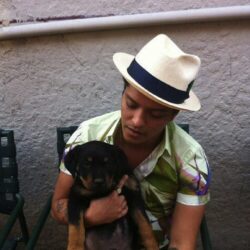 Birthday
October 8, 1985 (37)
Bruno Mars is a singer, songwriter, and record producer known for his smooth vocals and retro style. Born and raised in Hawaii, Mars began his music career as a child, performing in his family's band. He moved to Los Angeles as a young adult to pursue a solo career and was eventually signed to Atlantic Records.
Mars' debut album, "Doo-Wops & Hooligans," was released in 2010 and featured hit singles like "Just the Way You Are" and "Grenade." He continued to dominate the charts with his follow-up album, "Unorthodox Jukebox," which included hits like "Locked Out of Heaven" and "Treasure." In 2016, he released "24K Magic," which won the Grammy Award for Album of the Year and spawned hit singles like "That's What I Like" and the title track.
Throughout his career, Mars has collaborated with a number of prominent artists, including Mark Ronson, Beyoncé, CeeLo, and Cardi B. He has written songs for Adam Levine, Sean Kingston, Flo Rida, Brandy, and More. He is also half of the music duo Silk Sonic with Anderson .Paak.