 Dogs love Bob Marley and Reggae Music
Bob Marley had no reported pet dogs, but the Scottish SPCA and the University of Glasgow discovered that dogs love Bob Marley and reggae Music. They conducted a 2017 study that found while dogs were calmed by classical music, they became bored of it after a few days. They then found reggae and soft rock was the best music to reduce stress, barking, and the heart rate of dogs. They speculate that the rhythm is similar to a dog's heart great, with stressed puppies wanting to snuggle with their mom, whose heartbeat helps calm them down. Relax My Dog then released a reggae playlist for dogs.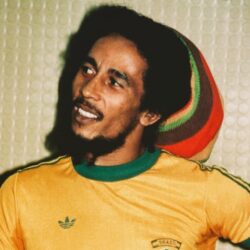 Birthday
February 6, 1945 (78)
Bob Marley (full name Robert Nesta Marley) was a Jamaican singer, songwriter, and musician who is widely considered one of the pioneers of reggae music. Born in the rural village of Nine Mile in Jamaica, Marley began his musical career in the late 1960s with his band, The Wailers, which also included Peter Tosh and Bunny Wailer.
Marley's music was influenced by the political and social turmoil of Jamaica during the 1960s and 1970s. His songs often addressed issues of poverty, inequality, and oppression, and he became known for his passionate and powerful performances.
Marley's career took off in the 1970s with the release of his album "Catch a Fire" in 1973, which featured hits like "Stir It Up" and "Concrete Jungle." He continued to produce hit albums throughout the decade, including "Natty Dread" (1974) and "Rastaman Vibration" (1976).
In addition to his music career, Marley was also involved in politics and activism. He supported the Jamaican political party, the People's National Party, and performed at a concert in support of the party in 1978. Marley was also a supporter of the Rastafari movement and incorporated its teachings into his music.
Marley's influence on music and popular culture has been vast. His music has been covered by countless artists, including Eric Clapton, Eric Clapton, and Lauryn Hill. He has also been referenced in numerous songs by other artists, including The Notorious B.I.G. and Kanye West.
Marley's legacy continues to inspire and influence musicians and fans around the world. He was posthumously inducted into the Rock and Roll Hall of Fame in 1994, and his album "Exodus" was named the best album of the 20th century by Time magazine in 1999.
His sons Damian, Ziggy, and Stephen Marley are all acclaimed reggae artists.