 Ivanka: No pets
Ivanka currently has no pets, but sometimes gets mistaken in the media as the owner of her mother Ivana's Terrier named Tiger. She has said on Twitter she would like a Shiba or Husky.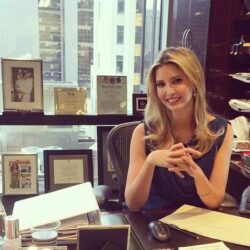 Birthday
October 30, 1981 (41)
Ivanka Trump, married to Jared Kushner and daughter of Ivana Trump and Donald Trump, was born October 30, 1981 in New York City. She has an estimated net worth of ($300 million at CNW, $150 at other random sources). Besides her famous family, she is known as a model, designer and business woman. She started modelling in her teens and walked the runway and modelled for fashion brands such as Versace and Tommy Hilfiger. Her business career includes her own fashion brand which covers a wide range of products. She also served as the Executive Vice President of Development and Acquisitions at the Trump Organization.
On January 11, 2017, Ivanka officially stepped down as head of her fashion brand and as part of the Trump Organization, following her active role in her father's presidential campaign. She plans to spend her time raising her children and in her new role as First Daughter of the United States.