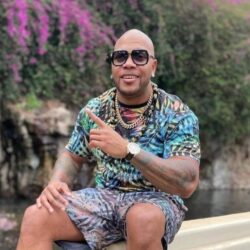 Birthday
September 16, 1979 (43)
Flo Rida, whose real name is Tramar Lacel Dillard, is a rapper and singer from Florida. He first gained popularity in the mid-2000s with his hit single "Low," featuring T-Pain. The song became a massive success and peaked at No. 1 on the Billboard Hot 100, where it remained for 10 consecutive weeks.
Since then, Flo Rida has continued to dominate the charts with hit singles like "Right Round," "Good Feeling," and "Whistle." He has collaborated with a wide range of artists, including Jennifer Lopez, David Guetta, Pitbull, and Kesha.
In addition to his music career, Flo Rida has also ventured into acting, appearing in the films "Gotti" and "The After Party." He has also been associated with athletes such as LeBron James and Dwyane Wade, and has made appearances at sporting events and halftime shows.