 No Pets (Shakur Stevenson)
Shakur Stevenson does not have any reported pets.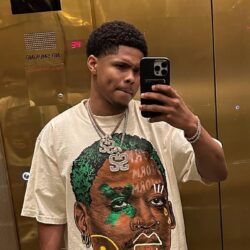 Birthday
June 28, 1997 (26)
Ash-Shakur Nafi-Shahid Stevenson, known professionally as Shakur Stevenson, is an American professional boxer who has achieved significant success in two weight classes. His career is distinguished by his tenure as the WBO featherweight titleholder from 2019 to 2020 and the WBO super featherweight titleholder from 2021 to 2022, along with holding the WBC and The Ring super featherweight titles in 2022.
Stevenson's amateur career was marked by notable achievements, including winning a silver medal in the bantamweight division at the 2016 Summer Olympics. His transition to professional boxing in 2017 was met with great anticipation. Stevenson's early professional bouts showcased his technical skill and strategic prowess, quickly establishing him as a formidable presence in the ring. His victories in various matches, including his debut against Edgar Brito and subsequent fights against Carlos Suarez and David Michel Paz, demonstrated his growing dominance in the sport.
Collaborations and mentorship have been pivotal in Stevenson's career. He has worked with several key figures in boxing, including signing a promotional contract with Top Rank and having Andre Ward as his manager. Promoter Bob Arum played a significant role in shaping his early professional career, featuring Stevenson in prominent events. His matches, such as the one against Joet Gonzalez for the WBO featherweight title, have not only been about sportsmanship but also about personal stories, adding depth to his career narrative.
Stevenson's career is adorned with several titles and distinctions. He won the WBO featherweight title in 2019 and successfully moved up a weight class to claim the WBO super featherweight title in 2021. His unification bout against Óscar Valdez in 2022, where he unified the WBC and The Ring super featherweight titles with his WBO title.