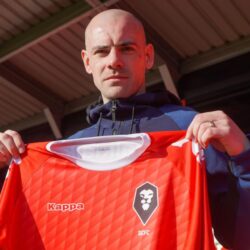 Birthday
October 25, 1987 (36)
Darron Gibson is an Irish footballer, best known for his contribution to the English Premier League where he made his mark playing for Manchester United and subsequently at Everton and Sunderland.
Gibson's career has been defined by numerous memorable moments in the field of football. His tenure at Manchester United was a testament to his skills, playing a key role in a midfield packed with star-studded talent. The pinnacle of his United career was perhaps the 2007-08 season, where he contributed significantly to the team's run to the Premier League and UEFA Champions League double. After leaving United in 2012, Gibson continued his career at Everton where his sharp vision, powerful shots, and precise passing made him a staple in the Toffees' lineup. His time at Sunderland, though marked with challenges, also saw him demonstrating leadership on the pitch.
In the course of his career, Gibson has worked in close association with numerous high-profile figures in the world of football. During his tenure at Manchester United, he played alongside legends like Ryan Giggs, Paul Scholes, and Wayne Rooney, learning from their experience and incorporating their teachings into his own game. At Everton, he collaborated with the likes of Tim Cahill, Leighton Baines, and Phil Jagielka, further honing his skills. His tenure at Sunderland saw him teaming up with talents such as Jermain Defoe and Lee Cattermole. Notably, Gibson has also been fortunate to be coached by football managing stalwarts like Sir Alex Ferguson at Manchester United and David Moyes at Everton, experiences which undoubtedly shaped his football career.
The footballer's hard work and tenacity on the pitch have not gone unnoticed. Throughout his career, he received several awards and titles that speak volumes about his talent. Gibson was a part of the Manchester United squad that won the Premier League in 2010-11 and was instrumental in the club's triumph in the UEFA Champions League in 2007-08. He also won the Football Association of Ireland Young International Player of the Year in 2009.