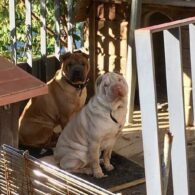 Gaho and Jolie
G-Dragon had two Shar Pei dogs named Gaho and Jolie. G-Dragon's dogs, Gaho and Jolie, were relocated to a family-run pension due to his demanding schedule and limited apartment space in Seoul. Initially, the move was aimed at providing the pets with more room and outdoor time. Fans visiting the pension even had the chance to meet Gaho and Jolie. However, the pension's caretakers have come under scrutiny for allegedly mistreating the dogs. Photographs and reviews from visitors revealed that both dogs were confined to small, caged areas and appeared to be "sad," "tired," and "overheated," particularly in the summer heat. While Gaho was still sociable and approached visitors for pets, Jolie was more reserved and preferred to be admired from afar. The situation has ignited concerns about the welfare of the two dogs who once enjoyed the freedom of home life.
G-Dragon, whose real name is Kwon Ji-yong, is a South Korean rapper, singer-songwriter, and record producer celebrated for his significant contributions to the K-pop industry and his influential role as a fashion icon.
Starting his career as a member of the group Big Bang, G-Dragon made a huge splash with the release of his debut solo album, "Heartbreaker," in 2009. This album led to the mainstream success that would establish him as a leading figure in the South Korean music scene. His versatility extends to multiple genres such as hip-hop, R&B, and electronic music. He later broadened his reach with albums like "One of a Kind" and "Kwon Ji Yong."
G-Dragon's collaborations with other celebrities have created some of the most unforgettable moments in Korean music and beyond. Some of these collaborations include working with fellow Big Bang members T.O.P, Taeyang, Seungri, and Daesung, as well as teaming up with other artists like Missy Elliott, Skrillex, Diplo, and Flo Rida. In the realm of fashion, G-Dragon has worked closely with designers such as Karl Lagerfeld and Phoebe Philo, and his influence even extends to the business sector, having partnered with entrepreneurs like Yang Hyun-suk, the CEO of YG Entertainment.
G-Dragon has won numerous awards not only in South Korea but also on the global stage. Among these are the Golden Disc Awards for "Best Male Artist," Mnet Asian Music Awards for "Artist of the Year," and a World Music Award for "World's Best Entertainer." His unique blend of musical talent, fashion acumen, and entrepreneurial skills has also earned him features in Forbes' 30 Under 30 Asia list multiple times.