 No Pets (Kimberly Goss)
Kimberly Goss does not have any pets.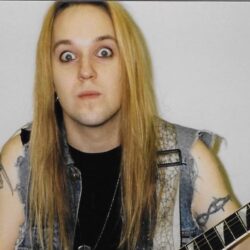 Birthday
February 15, 1978 (45)
Kimberly Goss is an American-born Finnish singer and songwriter, best known as the frontwoman of the symphonic power metal band, Sinergy. A figure who has significantly contributed to the metal genre, she possesses a diverse artistic portfolio that spans continents and crosses multiple genres of music.
Goss's career in music can be traced back to the mid-90s when she co-founded a band called Sinergy. With her distinct vocal range and style, she catapulted the band into the limelight, which became an influential player in the power metal genre. Their albums such as "Beware the Heavens" and "To Hell and Back" were well received by critics and fans alike, establishing Sinergy as a force to reckon with in the industry. Beyond Sinergy, Goss was also a part of Dimmu Borgir, a Norwegian symphonic black metal band, marking a significant part of her career with unique contributions.
Throughout her illustrious career, Kimberly Goss has been able to work with a varied set of talented artists. One of her most significant collaborations was with Alexi Laiho, a highly respected Finnish guitarist and singer, leading to the formation of Sinergy. Another noteworthy partnership was with Jesper Strömblad, who is recognized for his work in the Swedish music scene, particularly with In Flames. Her versatility is further underscored through her association with Aphazel from Ancient and Christofer Johnsson from Therion, as well as her role as a keyboardist alongside the band members of Children of Bodom.
Over her career, Goss has garnered significant recognition for her talents. She has received nominations for her songwriting, particularly within the metal genre. With Sinergy, she brought forth a fresh, dynamic sound that won the band a nomination for the Finnish Metal Awards. Goss's contribution to Dimmu Borgir also won acclaim, establishing her not just as a powerful vocalist, but also as a key member in shaping the band's musical direction.