 No Pets (Paloma Faith)
Paloma Faith does not have any reported pets.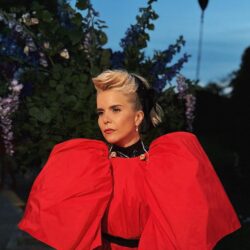 Birthday
July 21, 1981 (42)
Paloma Faith is a British singer, songwriter, and actress, recognized for her eclectic blend of music genres and her distinctive vintage-inspired style.
Born in London, Faith dabbled in various creative fields before cementing her name in the music industry. Her debut album, "Do You Want the Truth or Something Beautiful?" released in 2009, quickly became a commercial success, reaching double-platinum status in the UK and birthing two top 20 singles. Her subsequent albums, "Fall to Grace," "A Perfect Contradiction," and "The Architect" all reached the UK top 10 chart, exhibiting her prowess and consistency as a singer-songwriter. Faith's vibrant fusion of soul, pop, and jazz, combined with her theatrical performance style, makes her an unforgettable performer. As an actress, she found success with her roles in the 2007 film 'St Trinian's' and the television series 'Pennyworth' where she portrayed the enigmatic Bet Sykes.
Throughout her career, Faith has worked alongside numerous celebrated artists, forging partnerships that further enhanced her musical breadth. Collaborations with Pharrell Williams, John Legend, and Sigma gave rise to hits like "Can't Rely on You," "I've Gotta Be Me," and "Changing," respectively. Furthermore, she shared the stage with Candi Staton for the remake of "You Got the Love," while her duet with Josh Weller on "It's Christmas (And I Hate You)" presented a satirical side of Faith's repertoire. Collaborations with Babyshambles, Ghostpoet, and Basement Jaxx, among others, have also demonstrated her versatility.
Faith's significant contributions to the music industry have earned her a number of prestigious awards and recognitions. In 2015, she won the Brit Award for British Female Solo Artist, celebrating her powerful impact on the British music scene. "Only Love Can Hurt Like This," a single from her album "A Perfect Contradiction," scored her the first UK Number 1 hit.