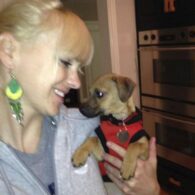 Pete
Pete was a chihuahua that Faris and Pratt adopted in 2012. He became a source of controversy in the press was found malnourished and lost on the streets of Hollywood in late 2016. When Pete was taken to a shelter, he was tracked by his microchip back to Faris. Faris responded saying because of her new son's allergies she had given Pete to new owners who then lost him. This violated her contract with the animal shelter she got the chihuahua from. To ensure that dog adopters are serious, the contract had a $5,000 fine if an adopted dog is ever given to a new owner.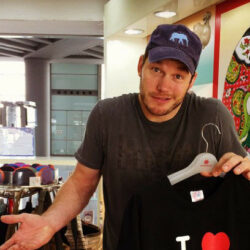 Birthday
June 21, 1979 (43)
Christopher Michael Pratt, better known just as Chris Pratt, has the nickname Monkeyboy. He's has an estimated net worth of $30 million. As you can tell from his nickname, he's known for loving monkeys. His first big role came in 2009 as Andy Dwyer in the NBC series Parks and Recreation. This role brought him critical acclaim, he was nominated for the Critics' Choice Television Award for Best Supporting Actor in a Comedy Series in 2013. Pratt's won a number of other awards over his acting and voice acting career.
Chris Pratt Career
Pratt's role as Andy Dwyer in Parks and Recreation was supposed to be temporary, but he became so popular he was brought on as part of the main cast. He also started to land supporting roles in movies such as Moneyball, Zero Dark Thirty, Wanted and more.
2014 is when became one of Hollywood's leading actors, starring in The Lego Movie alongside Will Arnett and Elizabeth Banks, and Guardians of the Galaxy with James Gunn and Zoe Saldana. He followed these with lead roles in Jurassic World, The Magnificent Seven and Passengers. Now, he'll be in the upcoming Thor: Love And Thunder; it's no wonder Chris Pratt is one of Hollywood's most bankable stars. He can currently be seen reprising his Marvel role in Avengers: Infinity War which released last year alongside Endgame to widespread critical acclaim.
Personal Life
He was marriage to actor Anna Faris from 2008 to 2017. They announced their split in 2017, and divorced the following year. Pratt started dating writer Katherine Schwarzenegger in June 2018. Schwarzenegger and Pratt announced their engagement on January 13, 2019. On June 8, 2019, they were married in Montecito, California. In April 2020, they announced that Katherine was expecting her first child, the second for Pratt, and on August 2020, she gave birth to a daughter.
The Farm
Chris Pratt has had a farm since 2017 on San Juan Island in Washington State that raises lambs and Longhorn cattle among other animals. The venture is fully functional for commercial distribution of organic produce such as wool from their sheep or meat and eggs produced by the chicken flock — just one way they're helping out at home with food production. He also shows the animals, one of his ewes won a blue ribbon at the Washington State University Country Living Expo for her wool.
On the subject of whether or not the farm's meat is going to be available to the public, Pratt has said, "Right now the meat is for friends, family, and gifts. Soon though, it may be available to my followers as we test recipes and open up to market. Gotta get some things dialed in first. I have found a new passion to add to my many others."
Chris Pratt and Animal Activist Controversy
Chris Pratt and Anna Faris allegedly tried to give their senior cat away on Twitter — the story was originally posted on Gawker, a notorious gossip magazine, in 2011. The magazine has a reputation for exaggerating the truth, but apparently this story came with tweets and blog posts by Pratt.
Pratt, in a now-deleted tweet, asked his followers "Anyone in the LA area want a cat? Full disclosure, she's old and prone to accidents. So sweet though." Apparently, Pratt then doubled down on the tweet after facing backlash from his followers, stating "So what I used twitter to give away our pet? I have some people who follow me and I thought maybe somebody would be thrilled to have my old cat. And guess what… Somebody was! Her name is Meghan and as far as I could tell she is a perfectly reasonable, sweet and friendly cat lover."