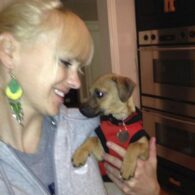 Pete
Pete was a chihuahua that Faris and Pratt adopted in 2012. He became a source of controversy in the press was found malnourished and lost on the streets of Hollywood in late 2016. When Pete was taken to a shelter, he was tracked by his microchip back to Faris. Faris responded saying because of her new son's allergies she had given Pete to new owners who then lost him. This violated her contract with the animal shelter she got the chihuahua from. To ensure that dog adopters are serious, the contract had a $5,000 fine if an adopted dog is ever given to a new owner.
Christopher Michael Pratt is an American actor born June 21, 1979 and has an estimated net worth of $30 million. His first big role came in 2009 as Andy Dwyer in the NBC series Parks and Recreation. His role was supposed to be temporary, but he became so popular he was brought on as part of the main cast. He also started to land supporting roles in movies such as Moneyball, Zero Dark Thirty, Wanted and more.
2014 is when became one of Hollywood's leading actors, starring in The Lego Movie and Guardians of the Galaxy. He followed these with lead roles in Jurassic World, The Magnificent Seven and Passengers.
He was marriage to actor Anna Faris from 2008 to 2017. They announced their split in 2017, and divorced the following year. Pratt started dating writer Katherine Schwarzenegger in June 2018. Schwarzenegger and Pratt announced their engagement on January 13, 2019. On June 8, 2019, they were married in Montecito, California. In April 2020, they announced that Katherine was expecting her first child, the second for Pratt, and on August 2020, she gave birth to a daughter.