 No Pets (Courtney Barnett)
Courtney Barnett does not have any reported pets.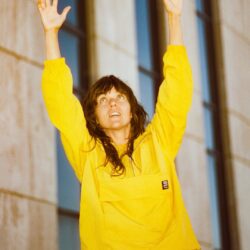 Birthday
November 3, 1987 (35)
Courtney Barnett is an Australian singer-songwriter and guitarist. Born in Sydney in 1987, Barnett started playing guitar at a young age and later moved to Melbourne, where she became a fixture of the city's indie music scene. Barnett gained popularity in 2013 with her debut EP "I've Got a Friend Called Emily Ferris" and her subsequent debut album "Sometimes I Sit and Think, and Sometimes I Just Sit" in 2015, which received critical acclaim and earned her a nomination for Best New Artist at the Grammy Awards. In addition to her Grammy nomination, Barnett has won several ARIA Awards, including Best Female Artist in 2015 and Best Rock Album in 2018.
One of the milestones in Barnett's career was her collaboration with fellow Australian musician and producer, Kurt Vile, on the album "Lotta Sea Lice" in 2017. The album was praised for its relaxed and effortless vibe, and the duo's musical chemistry was evident in their live performances together. Barnett has also collaborated with several other notable artists over the years, including The Breeders, Jen Cloher, and Jack White.
Barnett has also been an advocate for animal rights and has worked with several animal non-profit organizations, including PETA and Animals Australia. She has been an outspoken supporter of adopting rescue animals and has used her platform to raise awareness about the mistreatment of animals in the meat and dairy industries.
Barnett has also taken on several other roles throughout her career, including producing music and curating events. In 2018, she curated the "Milk! Records 10th Anniversary Weekender" in Melbourne, which showcased a lineup of female and non-binary artists. Barnett has also produced music for other artists, including the debut album of Melbourne-based band Loose Tooth.
Throughout her career, Barnett has worked with several notable celebrities, including Sleater-Kinney's Corin Tucker, fellow Australian singer-songwriter Paul Kelly, and American musician and actor, Jeff Goldblum. Barnett also collaborated with the late avant-garde musician and poet, Patti Smith, on a cover of her song "People Have the Power" for the 2018 documentary "Mountain".