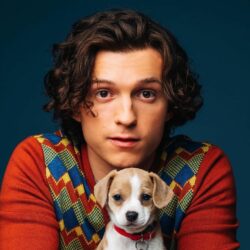 Birthday
June 1, 1996 (27)
Thomas Stanley Holland is more commonly known as Tom Holland. He is an active advocate for animal rights and dog rescue. He was featured on "Rescue Dog Rescue: Super Hero Edition" in 2019 with Stephen Colbert as the two of them worked together to find homes for puppies. Holland has a soft spot for Pit Bulls and adopted his very own, named Tessa, in 2014. He continues to use his social media platforms and interviews to advocate for Pit Bulls and eliminate negative stereotypes.
Tom Holland Career
Tom Holland is popular for his work as an actor. Only active as a film actor since 2012, he is now a well-known name thanks to his role as Spider-Man in the Marvel Cinematic Universe. He started his career in theater and dance, giving his first performance in 2008 in Billy Elliot the Musical, which he continued until 2010. In 2012 he starred in his first film The Impossible with Naomi Watts and Ewan McGregor. In 2015 it was announced he would playing Spider-Man in Marvel's upcoming films. His first appearance as Spider-Man was in Captain America: Civil War with Robert Downey Jr., Scarlett Johansson and Chris Evans. In 2017 he played the lead in Spider-Man: Homecoming, and again in 2019 for Spider-Man Far From Home.
Tom Holland Pets
Holland has been the proud owner of a blue Staffordshire Bull Terrier named Tessa since she was adopted in 2014. She has been with Tom through his rise to fame and if you follow him on Instagram you'll see very clearly that the two have been nearly inseparable. In the rare times that they are apart, Tom makes sure to Facetime his beloved pup. In his efforts to eliminate negative stereotypes associated with Pit Bulls Tom continues to tell the world how lovely Tessa is. "Staffies are considered to be very dangerous dogs, which is not true, is not the case. They are not aggressive. [Tessa] is the sweetest, most angelic thing you'll ever meet."
A Real Life Hero
Tom's love for dogs doesn't end at adoption appearances and having a rescue dog of his own. In 2018, the actor was walking on a Spring day in Kingston, UK when he found a lost dog on the street. He quickly took to social media for help to get the pup home. After taking the dog to the vet to ensure it was healthy, Tom came back to social media saying "So, update on Bruno. We took him to the vet, and he's got a microchip. They have his owner's contact info, and they're gonna find out where he lives, and hopefully, they'll bring him home." Relieved Tom Holland fans and followers of the incident were able to sleep soundly that night (along with the owners of the lost dog!). It's great to know Tom is hero in real life too!