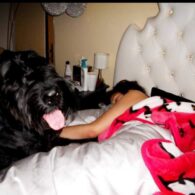 Midnight
Before her mini black Schnauzer named Noon, Zendaya had a giant black Schnauzer named Midnight. Midnight was Zendaya's childhood do that she got when she was 8 years old. Midnight passed away in October 2015 at the age of 11. Zendaya got Noon two months later.
Zendaya posted this tribute to Midnight on Instagram, "My baby went to heaven today. Thank you for being one of the most loyal men in my life, for loving me unconditionally and for cuddling me when ever I needed. I don't know if you ever understood me when I told you but I love you more than you'll ever know. We've been together since I was 8 and I'm not really sure how to get use to a house without your cute paws clinking around….but thank you for every second of love you gave us. Give Poppi a kiss for me up there."
Zendaya Maree Stoermer Coleman is a multi-talented actress, singer, and fashion icon who was born and raised in California. Zendaya began her career as a child model and dancer before transitioning to acting. Zendaya's breakout role came in 2010, when she landed the lead role in the Disney Channel series "Shake It Up." Her portrayal of a teenage dancer navigating the ups and downs of high school life quickly made her a household name. From there, she went on to star in a variety of successful films and TV shows, including "Spider-Man: Homecoming," "The Greatest Showman," and the HBO series "Euphoria." "Euphoria" also stars Sydney Sweeney, Nika King, Maude Apatow, Emma Myers, Eric Dane, Alexa Demie, Nika King, Jacob Elordi, and Hunter Schafer.
Zendaya is currently in a relationship with "Spider-Man" co-star Tom Holland.