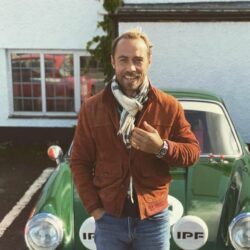 Birthday
April 15, 1987 (35)
James Middleton is an English entrepreneur. He is the brother of Catherine, Duchess of Cambridge.
Born in Reading, Berkshire, Middleton was educated at St Andrew's School, Pangbourne and University of Edinburgh before founding a cake-making business. Middleton began receiving media attention during his eldest sister's relationship and subsequent marriage to Prince William. In 2013, he founded personalized greeting card company Boomf. Middleton is also a mental health advocate and has spoken about his experiences with major depressive disorder. James and his dog, Ella, are ambassadors for the Pets As Therapy charity.
Middleton civilly married French financial analyst Alizée Thevenet in France in September 2021.