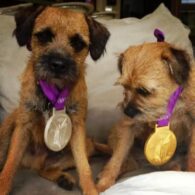 Rusty and Maggie May
Tennis star Andy Murray has two Border Terrier dogs named Rusty and Maggie May. The pair is shown here wearing Murray's gold and silver medals he won at the 2016 Rio Olympics.
Sadly, Maggie May passed away in July 2022. Murray posted this tribute on his Instagram, "Today or our family said goodbye to this amazing little dog😢she was a huge part of our family and our first pet so this really hurts. Give your pets a big cuddle tonight cause it stings when you can't anymore.💔
Thanks Maggie Mayhem you were an absolute star ⭐️ ❤️"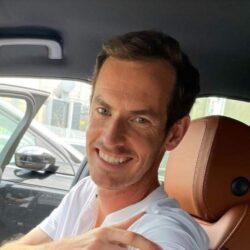 Birthday
May 15, 1987 (36)
Andy Murray is a former professional tennis player from Scotland who has made a significant impact on the sport. He is widely regarded as one of the greatest players of his generation and has amassed a long list of accomplishments throughout his career.
Murray's professional tennis career began in 2005, and he quickly established himself as a top player, winning his first ATP Tour singles title in 2006. He continued to climb the ranks of the tennis world, achieving his first Grand Slam victory at the 2012 US Open. Murray went on to win two Wimbledon titles and a second US Open championship, among other titles. Tennis champions Roger Federer, Rafael Nadal, and Novak Djokovic are considered the "Big Three". Murray is often included with them as the "Big Four", for being the four most consistently dominant men's tennis players through the 2010s.
Throughout his career, Murray has collaborated with several other notable figures in the world of sports and entertainment. He has worked with legendary coaches such as Ivan Lendl, Amelie Mauresmo, and Jamie Delgado, and has also partnered with fellow tennis players like Serena Williams and Martina Hingis.
Off the court, Murray is also a passionate advocate for animal welfare. He and his wife, Kim Sears, are avid animal lovers and have been involved in numerous initiatives aimed at promoting the protection and well-being of animals. In 2018, Murray received the Animal Hero award at the Daily Mirror's Animal Hero Awards, in recognition of his efforts to raise awareness about animal welfare issues.
Murray's love for animals has also influenced his professional endeavors. In 2019, he partnered with World Animal Protection to launch a campaign to end the use of plastic in the fishing industry. The campaign, which aimed to reduce the harm caused to marine animals by discarded fishing gear, was a significant success and received widespread media coverage.
In addition to his advocacy for animal welfare, Murray is also involved in various philanthropic initiatives. He has established the Andy Murray Live charity event, which raises money for several charities in the UK, including UNICEF and the Scottish charity Young People's Futures.