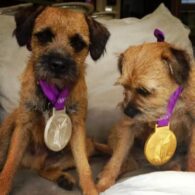 Rusty and Maggie May
Tennis star Andy Murray has two Border Terrier dogs named Rusty and Maggie May. The pair is shown here wearing Murray's gold and silver medals he won at the 2016 Rio Olympics.
Sadly, Maggie May passed away in July 2022. Murray posted this tribute on his Instagram, "Today or our family said goodbye to this amazing little dog😢she was a huge part of our family and our first pet so this really hurts. Give your pets a big cuddle tonight cause it stings when you can't anymore.💔
Thanks Maggie Mayhem you were an absolute star ⭐️ ❤️"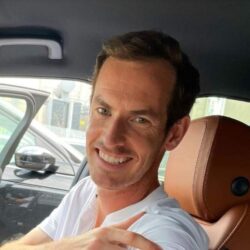 Birthday
May 15, 1987 (35)
Sir Andrew Barron Murray, better known as Andy Murray, is a British professional tennis player. He's won three Grand Slam titles with the US Open in 2012, and Wimbledon in 2013 and 2016. At the 2016 Rio Olympics, he won the gold medal for men's singles and the silver medal for mixed doubles with fellow British player Laura Robson. He was ranked as the world's number one mens player for 41 weeks by the Association of Tennis Professionals (ATP). Tennis champions Roger Federer, Rafael Nadal, and Novak Djokovic are considered the "Big Three". Murray is often included with them as the "Big Four", for being the four most consistently dominant mens tennis players through the 2010s.