Christopher Chip Rafael Nadal
Serena Williams has a dog named Chip. When this Yorkshire terrier isn't wrapped in hotel towers or sampling personally prepared gourmet dog food, he's flying around the world attending Wimbledon, or another tennis tournament. The life of a companion to a world champion tennis player requires travelling around the globe and Chip just happens to be the perfect size. He's able to fit under the seat, and effectively fly to any country. And if you noticed this pup's full name, it's also a dedication to Serena's friend and tennis legend Rafael Nadal.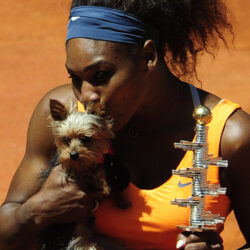 Birthday
September 26, 1981 (41)
An American tennis player, Serena Williams born September 26, 1981 is the youngest of 5 daughters. Along with her sister Venus Williams, the Williams sisters went on to collectively win 14 Grand Slam doubles titles. On her own, she has a total of 22 Grand Slam titles. Williams was the highest paid female athlete in 2016, earning $28.9 million in prize money and endorsements.
Serena Williams has cose relationships with other celebrities and worked on projects with them during her career. She has a close relationship with Beyoncé and made a cameo appearance dancing in Beyoncé's music video for the song Sorry in the hit album Lemonade. Williams said the director told her, "We would love for you to be in this particular song. It's about strength and it's about courage and that's what we see you as."