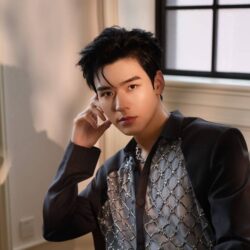 Birthday
November 29, 1992 (30)
Gong Jun, often known as Simon Gong, is an Chinese actor who gained widespread attention for his role in the television series "Word of Honor." This breakthrough set the stage for a career that has not only charmed local audiences but has started making waves internationally.
Gong's versatility has been evident through his diverse roles in both films and television. He's particularly admired for his work in the hit dramas "Advance Bravely" and "Lost Love in Times." However, it's hard to overlook his film career, especially with his roles in movies like "Shanghai Fortress," a large production with high-stakes drama and intense coreographed action sequences.
When it comes to collaborations, Gong has been no stranger to working with a plethora of industry talents. He has shared the screen with Zhang Zhehan in "Word of Honor," which added a new dimension to his career. Other significant collaborations include partnerships with Xu Kaicheng in "The Love Knot: His Excellency's First Love," Li Qin in "Lost Love in Times," and Huang Jingyu in "Advance Bravely." In addition, he has also worked with Chen Yuqi, Wang Yibo, Xu Kai, Bai Lu, Dilraba Dilmurat, and Liu Yuning.
Gong has received several distinctions such as the "Popular Actor Award" at the Asia Pacific Actors Network Awards. He also won the "Best New Actor" at the 2020 Golden Bud – The Third Network Film And Television Festival.