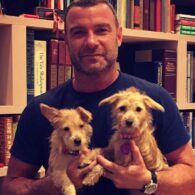 Woody and Willow
Woody and Willow are two scruffy mixed breed pups displaced by the Texas Tropical Storm, Hurricane Harvey. Liev Schreiber found them backstage at the Live with Kelly and Ryan morning talk show, prepping for their segment on Hurricane Harvey dogs. Liev knew the dogs would be perfect for his two sons with Naomi Watts, Samuel and Sasha, and adopted the pair on the spot.
Naomi Ellen Watts is an English actress born on September 28, 1968 and has an estimated net worth of $30 million. Born in England, she lived in Australia from age one to seven, before moving back to Australia at age 14. Her mother worked as a costume and set designer and encouraged Naomi to join the film industry, signing her up for acting lessons and sending her to TV commercial auditions. She also tried working as a model and in the fashion industry, but found her passion back in acting. Through her auditions, she also became friends with a young Nicole Kidman.
Her first film role came in 1986 with For Love Alone. After some small roles, she was casted in the 1991 indie film Flirting, thanks to it co-starring her friend Kidman. The film was a critical hit, leading to Watts moving to Los Angeles with Kidman's encouragement and agency connections. While this sounded promising, her career struggled through the 1990s, winning only small roles while constantly auditioning.
Her breakthrough role came when director David Lynch hired her as the lead for his iconic film Mulholland Drive in 2001. Her success grew from there, starring in critical and commercial hits such as 21 Grams with Sean Penn and Benicio del Toro, I Heart Huckabees with Jude Law and Dustin Hoffman and Stay with Ewan McGregor and Ryan Gosling. Other notable roles include starring in Peter Jackson's remake of King Kong and the Hollywood remake of The Ring. She's also known for her 11-year relationship with actor Liev Schreiber, who she has two sons with.