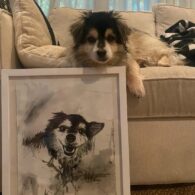 Duke (Dog)
Calum Hood, the bass guitarist for 5 Seconds of Summer, once had a cherished corgi mix named Duke. Initially named Luke, Calum adopted him from a shelter in Van Nuys, California, during an outing with his father. He even had his own Instagram account, managed by Calum and his ex-girlfriend Shine, although the account has been inactive since December 6, 2018. Sadly, Duke has since passed away.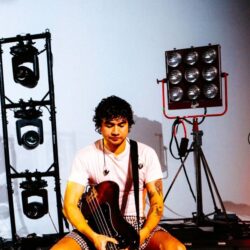 Birthday
January 25, 1996 (27)
Calum Hood is best known as the bass guitarist for the Australian pop-rock band 5 Seconds of Summer, often recognized for his significant contributions to the band's albums and collaborative ventures.
Calum Hood's entry into the music world became prominent with 5 Seconds of Summer, a band that he co-founded. With a major label signing and the release of their debut self-titled album in 2014, Hood and his bandmates were catapulted to international fame. Tracks like "She Looks So Perfect" and "Amnesia" showcased Hood's prowess on bass guitar and background vocals, establishing him as a vital element in the band's sound. Later albums such as "Sounds Good Feels Good" (2015) and "Youngblood" (2018) only further solidified their musical relevance, with Hood actively participating in the writing and recording process.
When it comes to collaborations, Hood has worked with a plethora of musicians and celebrities. He's teamed up with John Feldmann, a producer and musician, and Joel Madden and Benji Madden of Good Charlotte fame. There's also been input from Alex Gaskarth of All Time Low and Ryan Tedder from OneRepublic. Hood has further extended his creative reach by collaborating with musical talents like Julia Michaels, Steve Mac, and Rivers Cuomo from Weezer. Beyond musicians, Hood has interacted with notable personalities like James Corden on 'The Late Late Show,' participated in interviews with Zane Lowe, and appeared on platforms such as BBC Radio 1 with figures like Nick Grimshaw.
Hood and his bandmates have earned several awards that underline their impact on the music industry. Their debut album clinched the No.1 spot on the Billboard 200 chart. Moreover, they've received an American Music Award for New Artist of the Year in 2014 and a Billboard Music Award for Top New Artist in 2015. The band's song "Youngblood" won Song of the Year at the 2018 ARIA Music Awards, highlighting Hood's continued involvement in chart-topping success.