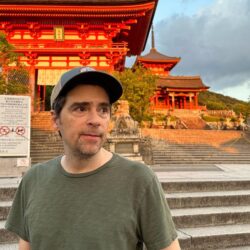 Birthday
June 13, 1970 (53)
Rivers Cuomo is an American musician, singer, songwriter, and producer best known as the lead vocalist, guitarist, and primary songwriter of the rock band Weezer.
Cuomo gained prominence in the early '90s with Weezer's self-titled debut album, often referred to as "The Blue Album," featuring hits like "Buddy Holly" and "Say It Ain't So." The album quickly became a touchstone in the world of alternative rock and went triple-platinum. In the decades that followed, Cuomo continued to steer Weezer through various musical landscapes, from the more experimental "Pinkerton" to the pop-friendly "Make Believe," which included the hit single "Beverly Hills."
Rivers Cuomo has worked with a variety of artists across different genres. He has teamed up with B.o.B and Kevin Rudolf in the pop and hip-hop scene. He's also collaborated with musicians like Hayley Williams of Paramore, Santigold, and Sugar Ray's Mark McGrath. Furthermore, Cuomo has explored partnerships with Andrew W.K., The Rentals' Matt Sharp, producer Rick Rubin, and Ozma's Daniel Brummel.
Throughout his career, Cuomo has received several honors that showcase his influence in the music world. For example, "The Blue Album" was certified triple-platinum by the RIAA and was included in Rolling Stone's list of the 500 Greatest Albums of All Time. Weezer's 2019 self-titled "Teal Album" debuted at number five on the Billboard 200, demonstrating Cuomo's enduring relevance. He was also given the title of "Rock Immortal" by Spin Magazine.