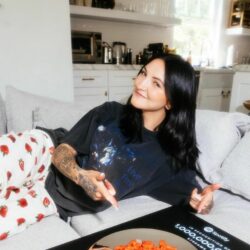 Birthday
November 13, 1993 (29)
Julia Michaels is an American songwriter and artist. Julia began her career as a songwriter, penning hits for some of the biggest names in the industry, including Justin Bieber, Selena Gomez, and Demi Lovato. Her breakthrough moment came in 2015 when she co-wrote "Sorry" for Justin Bieber, which became a worldwide hit, reaching number one in multiple countries.
One of the most significant milestones in Julia Michaels' career was the release of her debut single, "Issues," in 2017. The song was a massive success, peaking at number 11 on the Billboard Hot 100 and earning her multiple award nominations. The success of "Issues" led to the release of her first EP, "Nervous System."
Julia Michaels has collaborated with several high-profile artists throughout her career, including Ed Sheeran, Shawn Mendes, and Niall Horan. She co-wrote and featured on "Anxiety" with Selena Gomez, which was included on Selena's third studio album, "Rare." Julia also co-wrote and featured on "What a Time" with Niall Horan, which was included on his debut album, "Flicker."
Julia Michaels has won several awards and nominations for her work in the music industry, including multiple Grammy nominations. In 2018, she won the "Song of the Year" award at the BMI Pop Awards for "Issues." She also won the "Breakthrough Artist" award at the 2018 Billboard Music Awards.