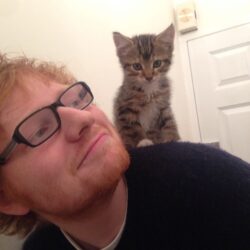 Birthday
February 17, 1991 (31)
Ed Sheeran is also known as Teddy Sheeran. He's a known cat lover and has two semi-famous cats named Calippo and Dorito, who are survived by Ed's other semi-famous cat, Graham. Sheeran became famous when his debut album + topped the UK album charts. His singing songwriting career has not slowed down since, and has netted him 117 awards and over 300 nominations.
Ed Sheeran's Cats
Ed Sheeran's cats, he says, are "clever pussies" who have set up their own Instagram account. Though, we suspect Ed and his wife Cherry Seaborn may have had to use their thumbs for some of it. Calippo and Dorito have impressively amassed over 290 thousand followers under the moniker TheWibbles.
Both food related, Calippo is named after the frozen desert popular in the UK and Dorito was coined for his orange ears. They both survive Graham, a stray Ed Sheeran rescued from euthanasia who was tragically hit by a car.
Ed Sheeran's Cats, What Kind are They?
Ed Sheeran's cat Calippo is a Scottish Folds, which is the same breed favored by his friend Taylor Swift. Coincidence? Maybe, maybe not.  Dorito is a ginger and white tabby cat and a very handsome boy. Graham was also a tabby cat.
Ed Sheeran's History
Ed Sheeran is an English singer and songwriter born February 17, 1991 and is worth an estimated $65 million. In early 2011, he released an independent extended play album called No. 5 Collaborations Project, which got the attention of Elton John and Jamie Foxx. Later than year he released his debut album Plus which has since been certified platinum seven times, making it one of the best selling albums of the 2010s. This album also won him two Brit Awards for British Breakthrough Act and Best British Male Solo Artist.
After three albums, he has now sold millions of albums and won 43 awards, including two Grammys.