Pippi Lawrence
If you follow celebrity pet culture, you'll know about Pippi Lawrence. She is of course Jennifer Lawrence's miniature mutt. Besides having his own Twitter account and a nice group of followers, Pippi also gets to travel across the US, has a hunk of a bodyguard, hangs with Bradley Cooper, and regularly fends off paparazzi.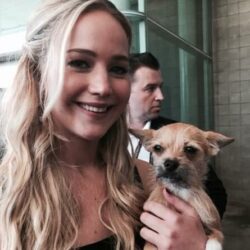 Birthday
August 15, 1990 (32)
Jennifer "JLaw" Lawrence is an American actress best known for her role starring role as Katniss Everdeen in the Hunger Games film series (2012–15). Born and raised in Kentucky, Lawrence moved to New York City at the age of 14 to pursue her dream of becoming an actress. Her hard work and dedication paid off, as she quickly landed roles in several successful TV shows and films.
Lawrence's breakout role came in 2010, when she played the lead in the independent film "Winter's Bone." Her portrayal of a tough and resilient teenager living in poverty in rural America earned her critical acclaim and her first Academy Award nomination. From there, she went on to star in a string of box office hits, including "X-Men: First Class," "Silver Linings Playbook," and "The Hunger Games."
Throughout her career, Lawrence has collaborated with some of the most renowned directors like David O. Russell, Francis Lawrence, and Darren Aronofsky, and has shared the screen with actors such as Bradley Cooper, Robert De Niro, Evan Peters, Julianne Moore, Oscar Isaac, Sophie Turner, James McAvoy, and Patrick Stewart, and Amy Adams.
Lawrence has also been a vocal advocate for animal rights and welfare. She has worked with non-profit organizations such as the Humane Society and the WildAid Foundation to raise awareness about animal abuse and conservation. She has also been an outspoken advocate for pet adoption, regularly encouraging her fans to consider adopting animals from shelters.