Pippi Lawrence
If you follow celebrity pet culture, you'll know about Pippi Lawrence. She is of course Jennifer Lawrence's miniature mutt. Besides having his own Twitter account and a nice group of followers, Pippi also gets to travel across the US, has a hunk of a bodyguard, hangs with Bradley Cooper, and regularly fends off paparazzi.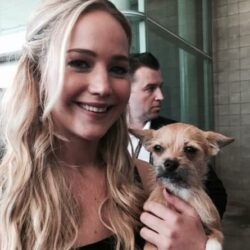 Birthday
August 15, 1990 (32)
Jennifer "JLaw" Lawrence is an American actress raised in Louisville, Kentucky. She is best known for her role starring role as Katniss Everdeen in the Hunger Games film series (2012–15). Lawrence achieved wider recognition for playing the mutant Mystique in X-Men: First Class (2011) and later in X-Men: The Last Stand (2006).