Baloo was found abandoned in the forest – he was starving, sporting the saddest eyes in the world and a bad case of mange.
Animal control officers brought him into the Hernando County Animal Services in Florida. Someone had been abusing him so badly that shelter workers couldn't get near him. They had to throw his food over the top of his fence.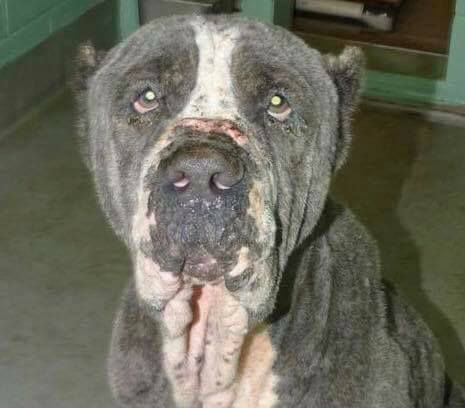 Baloo's fear of humans lead to aggression, but shelter workers were patient, having an idea of what he had gone through. But, Baloo's chances of being adopted were non-existent. At least, until Jen Deane saw a photo of him on Facebook.
"When I talked to the shelter director, she said she thought it was fear based — that he had a hell of a life," said Jen Deane, founder of Florida-based rescue, Pit Sisters.
"You see his face and you just want to cry," she said. "I took him because I just saw the defeat in him and I thought, gosh, somebody needs to give you a chance."
Deane brought Baloo to a veterinary facility that partners with Pit Sisters. She visits him every day, gaining his trust slowly.
"We've had staff members toss treats over the top of his kennel so every time someone walks by he sees a person, he gets treats," Deane explained. "So he's starting to associate people with good things rather than bad things."
Baloo's sad eyes have reached out across the internet, Deane's started receiving gifts for the poor pup. And slowly, the angry pup is starting to trust again.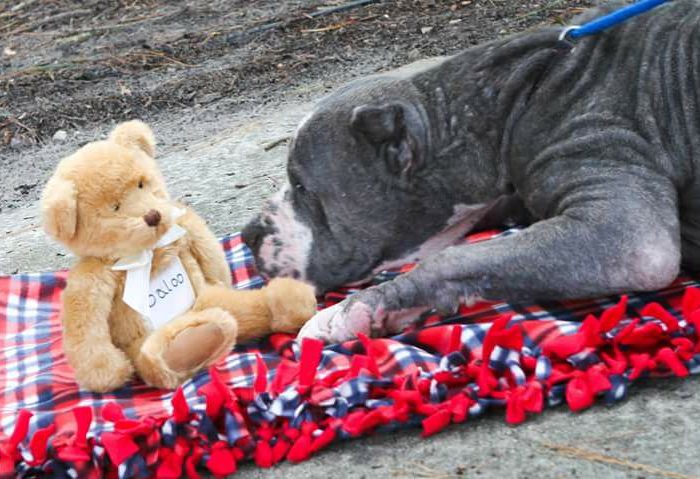 "He's been doing better and better each day," Deane explained. "We brought him in with an airline crate and we just left the bottom of it and took the door off of it so he could retreat to it.
Baloo feels safe in his crate. He's getting healthier and becoming more adventurous. Deane keeps posting updates of the pup on the Pit Sister's Facebook page. Eventually, he let Deane feed him a treat out of her hand. And then his tail started wagging. After this change, Deane stated that the "happy boy" within Baloo started to show his face. She's posted a video of the pup getting a belly rub!
"His tail is wagging. Yes, I got teary-eyed when I saw it. He actually licked my face too."
Now, Baloo's playing fetch just like any other dog.