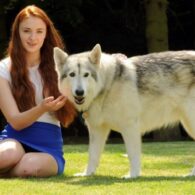 Zunni (Lady the Direwolf)
Zunni played Sansa Stark's Direwolf "Lady" on Game of Thrones and was killed on the show in 2013. Sophie always wanted a dog and became very attached to her co-star during the first few seasons. Still a minor at the time, her parents agreed to adopt Zunni so they could continue their adventures in real life. Zunni isn't really a Direwolf, but a Mahlek Northern Inuit, which is a combination of German shepherds, Siberian Huskies and Inuit breeds to create their wolf-like appearance.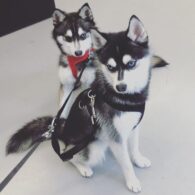 Waldo Picasso Jonas
Waldo Picasso Jonas is the second direwolf adopted by Sophie Turner and Joe Jonas. The couple's habit of giving an homage to famous artists continues on with Waldo Picasso referencing Pablo Picasso. Waldo Picasso's brother, Porky Basquiat, is named after the artist Jean-Michel Basquiat.
Sophie Turner is an English actress. While participating in drama and theater since she was 3 years old, her first professional acting job was at 15 when she joined the cast of HBO's Game of Thrones. She portrays Sansa Stark, the sister to Arya Stark (Maisie Williams) and half-sister to Jon Snow (Kit Harington). While only her first role, she has received several nominations for her performance. She has since starred in several feature films with Another Me, Barely Lethal and X-Men: Apocalypse, which co-starred Hugh Jackman and Jennifer Lawrence.