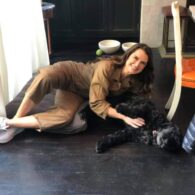 Pepper (Magoo) (Dog)
Life-long dog lover Brooke Shields most recently had a Poodle-mix dog named Pepper, aka "Magoo", that she got in 2012. Pepper sadly passed away in February 2023 at the age of 10. Shields posted this tribute to Pepper on Instagram, "Today we had to say goodbye to our beloved furry girl Pepper, aka "Magoo." It was the hardest thing we have ever had to do. She was Pure Love. "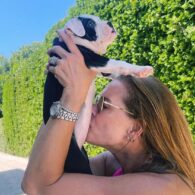 Tuzi (Dog)
Brooke Shields and Chris Henchy welcomed a new furry family member by adopting Tuzi, an American Staffordshire Terrier. During a New York race event in August 2023, Brooke Shields revealed they chose Tuzi because she was overlooked due to her unique "twisted tail." The couple adopted the pup from The American Kennel Club.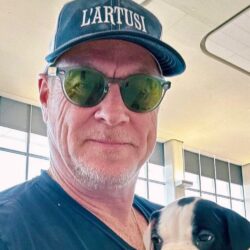 Birthday
March 23, 1964 (59)
Chris Henchy is an American producer, writer, and director, most notably recognized for co-founding the humor website Funny or Die with actor Will Ferrell and Adam McKay. Henchy's career has made significant strides in both television and film. He started as a writer for popular television shows such as "Spin City" and "I'm with Her," but soon expanded his reach into the realm of films. Notably, he penned the script for movies like "Land of the Lost" and "The Other Guys," both of which brought him considerable recognition in Hollywood.
Throughout his career, Henchy has had the privilege to collaborate with a plethora of artists, celebrities, and influential individuals. Among them are actors such as Mark Wahlberg, Eva Mendes, and Dwayne "The Rock" Johnson. Henchy also collaborated with Michael J. Fox while working on "Spin City," and Teri Polo during his time on "I'm with Her." He co-wrote "The Campaign" with Shawn Harwell, and the movie featured the comedic talents of Zach Galifianakis. Working alongside director Dennis Dugan on "Grown Ups 2," Henchy contributed to the film's script. He has been part of projects involving notable producers like Judd Apatow and collaborated with cinematographers like Oliver Wood. A significant part of his collaborations has been his continued partnership with Will Ferrell and Adam McKay through their co-founded venture Funny or Die.
Henchy's film "The Other Guys" won the BMI Film Music Award. He also received nominations for the Teen Choice Award for "Land of the Lost" in the category of Choice Movie: Comedy. While these honors highlight his writing skills, his work as a producer hasn't gone unnoticed either. His role as a producer in "Eastbound & Down" and "The Chris Gethard Show" has contributed to the series' popularity and critical acclaim.