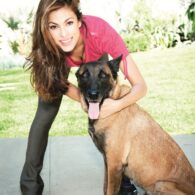 Hugo
Hugo is a Belgian Malinois owned by Eva Mendes. The breed is renowned for their agility and protective temperament. While most celebrities have fluffy playful dogs, Eva Mendes got herself a loyal guard dog that follows her every step. Prior to adopting Hugo, Eva had an issue with a fan from New York who stalked her to her doorstep, and claimed she was deathly in love with him. Shortly after she got a restraining order. Almost a year after, her boyfriend Ryan Gosling convinced her to adopt the loyal guard dog companion.
Hugo is quite the canine. Thanks to his babysitter / trainer, Cesar Millan, Hugo is capable of taking down any adversary as well as burning off extra energy on a treadmill.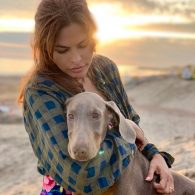 Lucho
Eva Mendes and Ryan Gosling are the parents of Lucho, adopted from the Friends for Life Rescue Network. He was adopted in July 2019.
Eva Mendes is an American actress and model. She began acting in the late 1990s, and after a series of roles in B movies such as Children of the Corn V: Fields of Terror (1998) and Urban Legends: Final Cut (2000), she made a career-changing appearance in Training Day (2001). After receiving international recognition for her role in the crime/drama, she landed roles in movies 2 Fast 2 Furious, Ghost Rider, We Own the Night, Stuck on You, Hitch and The Other Guys. In 2016, she was dating Ryan Gosling who recommended she adopt her guard dog Hugo.