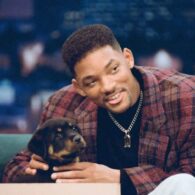 Indo, Gracie, Zhaki, Tyson
Will Smith and his wife Jada Pinket Smith have four Rottweilers. The dogs' names are Indo, Gracie, Zhaki, and Tyson. These dogs also received training from Cesar Millan, who is a good friend with Jada and gifted her Indo. Jada took in one of the Rotwiellers from a friend. The other two were gifts to Will from Jay Leno.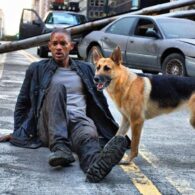 Sam (Abbey)
Abbey is the dog who's famous for costarring with Will Smith in the 2007 film I Am Legend. The German Shepherd played the role of "Sam", Will Smith's only companion as one of the only surviving humans after a zombie-like virus outbreak. Will Smith admitted to falling in love with the dog during filming. Their romance actually started before filming, with the pair going on "dates" to get to know each other better. He also admitted to begging to keep him after filming but understood Abbey already had his own loving family. The film's animal trainer actually found Abbey in a kennel and was able to properly train her for the role in a few weeks.
Will Smith said he's kept his distance from dog ownership since he was 9 years old, due to the trauma of his dog being hit by a car. After filming I Am Legend, he regained his confidence for dogs and now has four Rottweilers with his wife Jada Pinket Smith.
Birthday
September 25, 1968 (54)
Will Smith is an American actor, rapper, and producer. Smith has been nominated for five Golden Globe Awards and two Academy Awards, and has won four Grammy Awards. He was first known as a rapper under the stage name "The Fresh Prince", from the mid-1980s to the early 1990s. He was the first person to win the Grammy Award for Best Rap Performance in 1989. He then started a successful career in acting in the early 90s, starting with the lead role in the hit sitcom The Fresh Prince of Bel-Air, which aired from 1990 to 1996. After the series ended, Smith began starring in a series of blockbuster Hollywood films from the mid-1990s to today, such as Michael Bay's Bad Boys series with Martin Lawrence, Independence Day (1996) with Jeff Goldblum, Men in Black (1997) with Tommy Lee Jones, and Hancock (2008) with Charlize Theron. He won the Oscar for Best Actor for his role in King Richard (2022).
Will Smith is married to Jada Pinkett Smith and have four Rottweilers together. They also have two kids, Jaden and Willow.