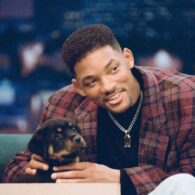 Indo, Gracie, Zhaki, Tyson
Will Smith has 4 Rottweilers named Indo, Gracie, Zhaki, and Tyson. They are trained be Cesar Millan.
Will Smith, born September 25, 1968, is an American actor, rapper, and film producer. Smith has been nominated for five Golden Globe Awards and two Academy Awards, and has won four Grammy Awards. During the early 90s, Will Smith gain popularity starring in The Fresh Prince of Bel-Air which aired from 1990 to 1996. After the series ended, Smith began acting in films, including Independence Day (1996) and Men in Black (1997).
Will Smith is married to Jada Pinkett Smith and share their pets together.