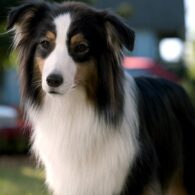 Maggie
In the 2023 movie Strays, Isla Fisher voices Maggie, an Australian Shepherd. Canine actor Elsa and stand-in dog Riley play Maggie on set.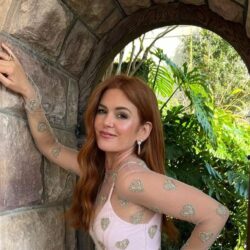 Birthday
February 3, 1976 (47)
Isla Fisher is an Australian actress and author, perhaps most recognized for her memorable performance in the romantic comedy "Wedding Crashers" alongside Vince Vaughn and Owen Wilson.
She began her career on Australian television. Born to Scottish parents in Oman, she moved to Australia at age six. After appearing in television commercials at a young age, she came to prominence for her portrayal of Shannon Reed on the soap opera Home and Away from 1994 to 1997, for which she received two Logie Award nominations. She continued to captivate audiences in a variety of roles, such as the shopaholic protagonist in "Confessions of a Shopaholic," the adventurous Henley Reeves in "Now You See Me," and as Myrtle Wilson in the cinematic adaptation of F. Scott Fitzgerald's "The Great Gatsby."
Fisher has had the opportunity to work with a plethora of talented individuals in the industry. Her co-stars have included Johnny Depp in "Rango," Leonardo DiCaprio and Tobey Maguire in "The Great Gatsby," Zach Galifianakis in "Keeping Up with the Joneses," Amy Adams in "Nocturnal Animals," Steve Coogan in "Greed," and Matthew McConaughey in "The Beach Bum." Additionally, directors like Baz Luhrmann, Louis Leterrier, and Tom Ford have played significant roles in shaping her career. Fisher's involvement in ensemble casts, like that of "Now You See Me" which included Jesse Eisenberg, Woody Harrelson, and Mark Ruffalo, further underscores the range and depth of her collaborative experiences.
Isla Fisher Family
Fisher first met English comedian and actor Sacha Baron Cohen in 2002 at a party in Sydney. They became engaged in 2004 and were married on 15 March 2010 in a Jewish ceremony in Paris, France. The couple have three children, born in 2007, 2010, and 2015. The family once resided in the United States, but moved to Sydney, Australia in 2020. Fisher is related to Scottish-born Australian actor Mikey Vincent.
Isla Fisher Awards and Nominations
Fisher won the MTV Movie Award for Best Breakthrough Performance for her role in "Wedding Crashers," and received nominations for her work in films like "Confessions of a Shopaholic" and "Definitely, Maybe." She was also honored with the Trailblazer Award at the 2018 AACTA Awards.