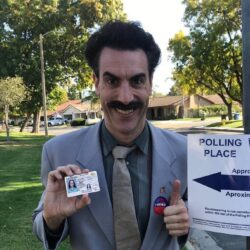 Birthday
October 13, 1971 (52)
Sacha Baron Cohen is an English actor, comedian, writer, and producer. He is best known for his creation and portrayal of the fictional satirical characters Ali G, Borat Sagdiyev, Brüno Gehard, and Admiral General Aladeen. He adopts a variety of accents and guises for his characters and interacts with unsuspecting subjects who do not realize they have been set up. At the 2012 British Comedy Awards, he received the Outstanding Achievement Award and accepted the award in character as Ali G. In 2013, he received the BAFTA Charlie Chaplin Britannia Award for Excellence in Comedy. In 2018, The Times named him among the 30 best living comedians.
His filmography includes iconic movies like "Borat: Cultural Learnings of America for Make Benefit Glorious Nation of Kazakhstan," "Brüno," and "The Dictator." He also took a dramatic turn with roles in films like "Les Misérables" and "The Trial of the Chicago 7."
From movies to television series, Cohen's portfolio is eclectic. He began his career with the character of Ali G, who was introduced in the UK's "The 11 O'Clock Show" and later got his own series, "Da Ali G Show." Not just stopping at comedy, Cohen showed his range as an actor in the musical "Les Misérables," and even delved into political drama with "The Trial of the Chicago 7," showcasing his versatility as a performer.
Over the course of his career, Sacha Baron Cohen has collaborated with a variety of notable individuals. These include director Larry Charles, who has worked with him on multiple projects such as "Borat" and "Brüno"; Isla Fisher, his wife and sometimes-collaborator; and Mark Strong, who starred alongside him in "Grimsby." He's also worked with actors like Helena Bonham Carter and Hugh Jackman in "Les Misérables," Eddie Redmayne in "The Trial of the Chicago 7," and even shared screen time with Johnny Depp in "Sweeney Todd: The Demon Barber of Fleet Street." Furthermore, Cohen partnered with writers Jeff Schaffer and Alec Berg, and producers like Scott Rudin and Todd Phillips.
Cohen has earned numerous titles and distinctions for his work. He won the Best Actor in a Motion Picture – Musical or Comedy for "Borat" at the Golden Globes and received an Academy Award nomination for the sequel, "Borat Subsequent Moviefilm." He has also earned recognition for his dramatic roles, including a Screen Actors Guild nomination for "The Trial of the Chicago 7."
On 28 December 2015, Baron Cohen and his wife, Australian actress Isla Fisher, donated £335,000 ($500,000) to Save the Children as part of a programme to vaccinate children in northern Syria against measles; they donated the same amount to the International Rescue Committee, also aimed at helping Syrian refugees.