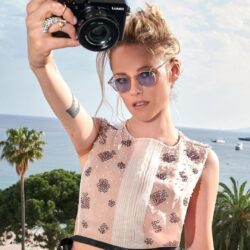 Birthday
April 9, 1990 (33)
Kristen Stewart, sometimes called KStew or Kiki, is an American actress. She is known to have and love wolf-hybrids. Stewart became a household name after her role as Bella Swan in Twilight. She has won a number of film festival, MTV awards, and others, and is one of only two American actors to win a César Award in France, the French equivalent to the Oscar.
Kristen Stewart Career
Kristen Stewart began acting in 1999, in 2002 she starred alongside Jodie Foster in Panic Room, and in 2008, she landed the role of Bella Swan in The Twilight Saga (2008-2012). The role won her international fame and the films grossed $3.3 billion worldwide. Fun fact, apparently Stewarts favorite vampire show isn't actually Twilight, but rather, The Lost Boys (1987). Go figure.
Since her success in Twilight, Stewart has also appeared in a number of notable movies including Advertureland (2009) alongside Ryan Reynolds, Kristen Wiig, Jesse Eisenberg and Bill Hader. She starred in Snow White and the Huntsman (2012) alongside Chris Hemsworth and Charlize Theron.
Before filming The Runaways (2010), she worked with Joan Jett in order to be able to portray her authentically. She worked on her mannerisms, stage presence, vocal tone, attitude and musical skill — during the filming, she recorded her own vocals and played guitar. Jett later celebrated Stewart for her hard work and overall performance. She said the portrayal made her proud. Stewart also starred in 2019's Charlie's Angels alongside Naomi Scott and Ella Balinska, with Drew Barrymore making a cameo.
Kristen Stewart's role as Diana, Princess of Wales in Pablo Larraín's biographical drama Spencer (2021) has earned her critical acclaim alongside nominations for a Golden Globe Award for Best Actress in a Motion Picture – Drama and Critics' Choice Movie Award for Best Actress. Many critics argue this is the role that will propel Stewart into a new echelon of acting. She stars alongside Jack Farthing as Prince Charles, joined by Timothy Spall, Sean Harris, and Sally Hawkins. And yes, to answer your question, there ARE corgis in the film. You can see them in the trailer.
Kristen Stewart is third on Forbes magazine's highest paid actress list in 2013. She achieved this with a total earning of $22 million. She came in #10 in 2014 with $12 million, and nine in 2015 with again $12 million.
Personal Life
Kristen Stewart's family includes three brothers, her oldest brother Cameron Stewart and two adopted brothers Dana and Taylor. Her parents are John Stewart and Jules Stewart, both work in film and television. The family was raised in LA and has a long history of working in the industry.
Kristen and Twilight co-star Rob Pattinson famously started dating in 2009. Their relationship lasted several years, much to the delight of Twi-fans. From late 2016 to late 2018, she was in a relationship with New Zealand model Stella Maxwell.
Since 2019, Kristen Stewart has been in a relationship with screenwriter Dylan Meyer. Stewart said in November 2021 that she and Meyer were engaged to be married. Both are long-time animal lovers and have a big, furry family, so our biggest question is, will the pets be in the wedding party?