Remember when Starbucks launched the Unicorn Frap, the magically colorful frappuccino that took over Instagram?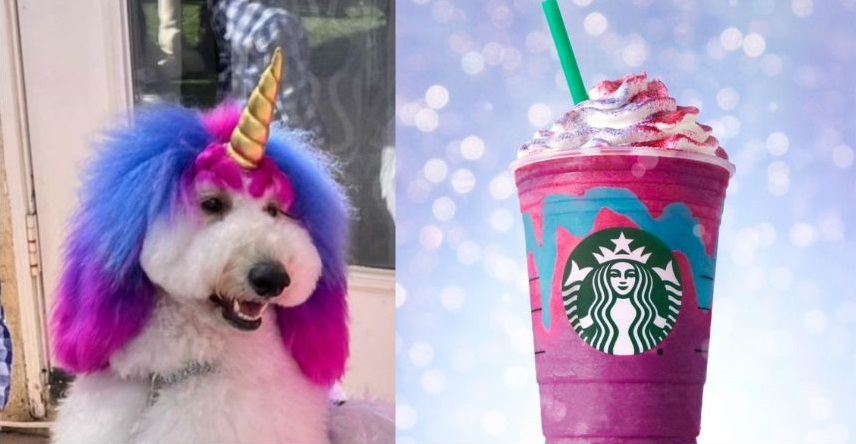 Well, it looks like it's been reincarnated as a dog named Zoe. Taking a break from her busy schedule working at a salon, the poodle-unicorn mix sat down for an interview with us.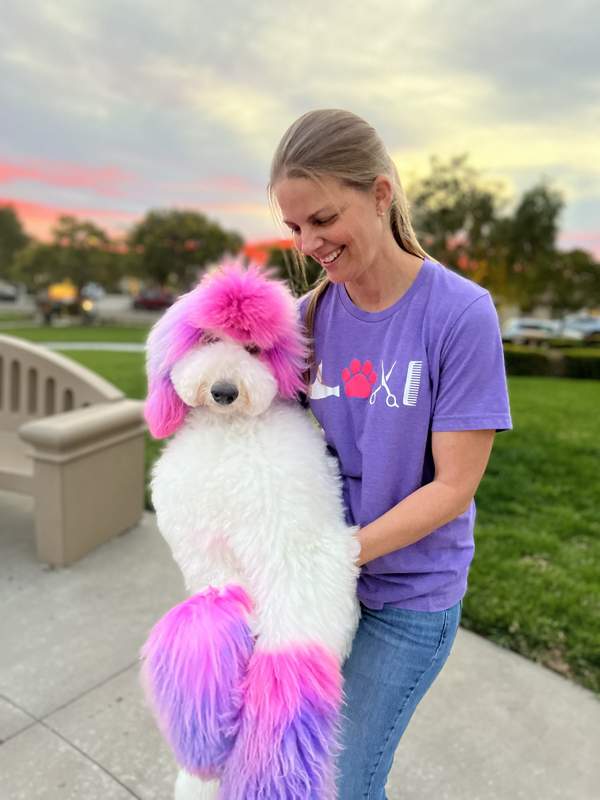 Celebrity Pets: So how did you and your human meet?
Zoe (Poodle): How we got together was very serendipitous, which is funny because my breeder is called Serendipity Poodles. My human Angela had dreamt about getting a white standard poodle, which would also help her develop her creative grooming skills. A few years back, she googled for white standard poodles and the first breeder she found was Serendipity, which is only 15 minutes away from her salon. On their website, she recognized Chou Chou, a white standard poodle that would visit her salon. The thing was, all of Chou Chou's puppies were black. A few years passed and my human searched again for a white standard poodle and saw that Chou Chou had her third litter. They were all black again, except for one… Me!
Celebrity Pets: So you were the white "black sheep" of the litter?
Zoe (Poodle): Yes, you could say that. I first went to another family, but I had too much energy for them and they returned me to Serendipity at five months old. Angela saw that I was available and couldn't wait to share my energy!
But to make sure I was a good fit in a salon, I did a quick internship and after one day, my human knew we could work together.
Celebrity Pets: What makes your pet special to you?
Angela (Human): While she may have been a white "black sheep", she grew up into a beautiful unicorn! She's just a big goofy sweetheart. She always brings joy to people she meets. She's acrobatic and very bouncy. One thing is she doesn't seem to know how tall she really is and can be a bit clumsy. She sometimes misplaces her legs when walking up the four steps in our salon and slips. And despite her size, she only likes the tiniest toys and refuses big ones.
While she enjoys being pretty and fluffy and looks high maintenance, she's not stuck up. She has confidence and she's pretty down to earth.
Celebrity Pets: Do you have any other pets?
Angela (Human): Yes, I have a bunny and two rescue dogs. Bently is a foxhound mix. Gala is a 6-pound Japanese chin and she's the boss of the house (and on Instagram at @galathechin). Zoe is great with all of them, even when Tala stands up on her hind legs and tries to order Zoe around.
Celebrity Pets: We'd also like to set the record straight – are you part unicorn?
Zoe (Poodle): No that's just a rumor. And you might be thinking of my recent Halloween costume, but note I was technically dressed as an "alicorn" because I had wings and a horn. But when people see me out in public, they react kinda like they've just seen a unicorn! I often can draw a small crowd that wants to meet me, pet me, take a selfie with me. People will slow their car down to say hello or take a photo. it works out as I love being a celebrity pet and I'm great with adults and kids.
Celebrity Pets: Mind sharing any fun stories of wowing people with your stylish looks?
Zoe (Poodle): One time I was on a walk with my human's assistant on our lunch break. We cruised by a park, where a band was playing for a senior assisted living group. The crowd started to notice me, I got some stares, a few gasps, nothing I'm not used to. But then more and more of the crowd's attention turned to me. So much so that the band stopped playing so everyone could meet me!
Celebrity Pets: Ok, we now understand your colors come from your fabulous fur-do, not inherited from your parents. Can you share your salon experience?
Zoe (Poodle): I love being groomed and will jump up on the grooming table as soon as it's my turn (or sometimes sooner lol). Poodles like need to be groomed, brushed, and bathed regularly anyways. And I only get my fur dyed every three or four months, so it's no big deal for me.
Angela (Human): Yes, Zoe really needs to stick to her appointments. Say I'll be giving one of my other dogs a bath. Zoe will see us, then run and jump onto the grooming table in the other room.. expecting to get front-of-the-line VIP service. I'll tell her it's not her turn, but she'll just stand there and wait. But as Zoe mentioned, poodles are a specific breed that needs regular grooming and bathing.
Celebrity Pets: We're sure many readers are wondering about the product used to dye your fur and its safety. Can you fill us in?
Angela (Human): We use OPAWZ pet-safe dye. It's super gentle and uses natural plant-based ingredients similar to edible food coloring. It can last up to 20 washes. These pet-safe dyes have been around for years and haven't caused any health issues.
Celebrity Pets: Zoe, what's your dream job or project to hope to accomplish?
Zoe (Poodle): I love kids and kids love me. They get so so excited to see a magical poodle unicorn and it really brings joy to me and my human Angela. So we'd love to visit and cheer up kids and families who are battling health issues. Maybe with Ronald McDonald House or Rady Children's Hospital here in San Diego. Also like my story about the band, I also bring joy to older folks and would love to visit senior centers.
Celebrity Pets: If you hosted a TED talk, what would the topic be?
Zoe (Poodle): Great question, glad you asked. I have two topics I'd speak on. First, I'd like to raise awareness about pet-safe dyes. On how there are perfectly safe options out there and to educate people on not using unsafe or made-for-human dyes.
Second, I'd raise awareness on the importance of regular grooming. Many think professional grooming is unnecessary or just for fun. But if you're not grooming and bathing your dog, it can affect their fur, skin, and health. Then for poodles like me or other specific breeds, we need special care for our special coats which can be more challenging for people to maintain.
Celebrity Pets: If you were stuck on a deserted island, what are the essential items you'd take?
Zoe (Poodle): A brush, of course. Maybe two. A small mirror. Some OPAWZ dye. Got to keep up my looks so when a helicopter flies by they'll see a beautiful unicorn and have to stop and take a selfie (and rescue me). You know I love teeny tiny toys, so a couple of those can fit in a carry-on. Oh, a couple of hair bands. Keep the fur out of my eyes when I'm swimming and so I don't blindly run into a coconut tree.
Celebrity Pets: If you just won the lottery, what's the first thing you'd buy or do?
Zoe (Poodle): I'm quite tall, so I'd get a private jet so I could travel the world without having to go in a plane's cargo area. With my jet, I'd channel my inner alicorn and fly all over to cheer up kids and anyone who needs some uplifting!
Celebrity Pets: Imagine you could go for a walk with a favourite celebrity (two or four-legged) – who would they be and why?
Zoe (Poodle): My dream is to meet Brodie that Dood. He's an inspiring and handsome Goldendoodle from Georgia. He's always on amazing adventures. He also loves cheering up kids and visiting children's hospitals.
Celebrity Pets: Can you share the story behind this Instagram post?
Zoe (Poodle): That was an event for Bichon for Kids Rescue, a pretty large rescue here in California. The founder gets her bichons groomed at our salon. She hosts this event once a year where she invites people who've adopted or are fostering dogs to get together. She invited me and the team from Muse Dog Spa to participate. So you know when human kids go to a party and get their faces painted? Well, we wanted to do that, but for doggies! We decorated dogs' ears, tails, or paws with a bit of chalk. Painted some nails and added a touch of fur color. We decorated some faces with tiny jewels. Maybe a pretty bow, top knot, or streamers.
Celebrity Pets: Is there a charity or non-profit organization you'd like to give a shoutout to?
Zoe (Poodle): Bichons for Kids and the San Diego Humane Society. Also, the Helen Woodward Animal Center, where I adopted Bentley from. They also host an annual Dog Surf-A-Thon that we like to attend and support. My human used to volunteer with Project Wildlife and they host an annual "Fur Ball" event in October that we hope to attend.
Celebrity Pets: This question is for your human. Can you share your story of working with dogs and Muse Dog Spa?
Angela (human): This story started for me five years ago when I bought Karen's Custom Grooming, which had been open for 30 years or so. Then, this past summer, I decided I wanted to expand. I really wanted to offer this thing called the Thera-Clean Microbubble Bath, but didn't have the space for it, so I started looking into other locations. At the same time, I got Zoe and started dying her and started envisioning a new direction.
Then I was building out a new shop and working with Zoe. I would look at this beautiful white standard poodle and felt she was so inspiring, like all I wanted to do was work on her. I just kept having these different ideas and visions and realized Zoe is my muse. With my muse Zoe inspiring me, I also saw how my client's dogs inspired them as well. And so that's where the shop's name came from.
With Zoe motivating me in a new creative direction, I experimented more with cuts, dyes, jewels, and other decorations. I'm not really a "pink" person but for some reason I really wanted to try pink on Zoe's top knot, which ended up looking like a horn. I guess I love Zoe so much and I just constantly look at her and I thought oh I just love these colors. Then Zoe's signature pink and blue look became Muse Dog Spa's brand colors. So yes Zoe my muse inspired it all!
Celebrity Pets: Do you two have any exciting plans coming up that you'd like to share?
Zoe (Poodle): I'm planning to attend kids' birthday parties to surprise them. But it's just a warm-up for our goal to bring joy to kids in hospitals or with organizations like Ronald McDonald House.
Celebrity Pets: Thanks for your time Zoe and Angela, we loved hearing your story and can't wait to see your plans come to life!
Make sure to follow @angela_and_zoe and @MuseDogSpa on Instagram. And if you're in the San Diego area and want a fresh look for your furry muse, visit musedogspa.com.