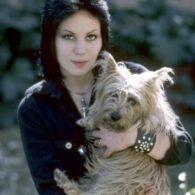 Dogs & Animal Advocacy
Joan Jett's affinity for animals is almost as iconic as her raspy voice and hard-hitting guitar chords. While she's best known for belting out anthems like "I Love Rock 'n' Roll" and "Cherry Bomb," her love for dogs and other animals also takes center stage in her life. A dedicated vegetarian, Jett extends her compassion beyond her diet, actively advocating for animal welfare. She showcased her commitment to the cause when she lent her voice to PETA's Butterball hotline message, which aimed to encourage people to consider vegetarian options during Thanksgiving. This step was in line with her long-standing association with PETA and other organizations that emphasize ethical treatment of animals. Jett's genuine love for animals, especially dogs, adds another layer to her multifaceted persona, blending seamlessly with her rock 'n' roll spirit. Her advocacy work serves as a testament to her belief that compassion and activism can coexist with a life of rock-star fame. Joan Jett is not just a woman who knows how to rock a stage, but also one who understands the importance of using her platform to speak for those who cannot.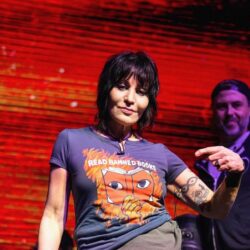 Birthday
September 22, 1958 (65)
Joan Jett is an American rock singer, songwriter, composer, and musician, primarily known for her work as the frontwoman of her band Joan Jett & the Blackhearts, and earlier, as a founding member of the Runaways.
Jett's music career took off with her involvement in the all-female rock band, the Runaways, in the 1970s. However, she found monumental success after founding Joan Jett & the Blackhearts in the early 1980s. The band's debut album, "I Love Rock 'n Roll," became an instant classic, featuring the chart-topping single of the same name. Over the years, Jett has released more than a dozen studio albums, including "Bad Reputation," "Up Your Alley," and "Unvarnished."
Jett has worked with an array of artists and personalities, diversifying her portfolio and infusing her rock 'n' roll spirit into various projects. She collaborated with Paul Westerberg on "Let's Do It" for the "Tank Girl" soundtrack. Her work with the Foo Fighters and Dave Grohl is also noteworthy. Additionally, she's joined forces with Miley Cyrus, Debbie Harry of Blondie, Kathleen Hanna of Bikini Kill, Lita Ford, Cherie Currie, Carmine Appice, and Bruce Springsteen.
Jett was inducted into the Rock and Roll Hall of Fame in 2015. In 2006, she received the Mojo Icon Award, and the year 2014 saw her earn the Golden God Award from Revolver Magazine. In 2019, she received the Clio Music Lifetime Achievement Award.