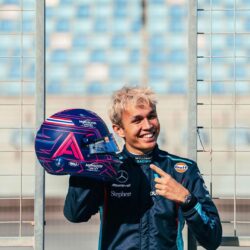 Birthday
March 23, 1996 (27)
Alex Albon is a Thai-British racing driver. Alex began his career in karting at a young age and quickly moved up to car racing. He made his debut in Formula Three in 2014 and went on to compete in several other racing categories, including Formula Two, DTM, and Super Formula. In 2019, he made his debut in Formula One, joining the Toro Rosso team.
One of the milestones in Alex's career was his move to Red Bull Racing in 2020. This was a significant achievement for him, as Red Bull is one of the top teams in Formula One. Alex's performance on the track was impressive, and he secured his first podium finish at the Tuscan Grand Prix in the same year. However, he was later replaced by Sergio Perez for the 2021 season.
Alex has worked with several celebrities in his career, including David Beckham, who is a big motorsport enthusiast. He has also collaborated with fellow Formula One drivers, such as Max Verstappen, Pierre Gasly, and Daniel Ricciardo. Alex's friendship with Verstappen has been particularly notable, as the two drivers have a strong bond both on and off the track.
In addition to his work in motorsport, Alex has also been an advocate for animal welfare. He is a patron of the Celia Hammond Animal Trust, which is a non-profit organization that works to rescue and rehome stray and abandoned animals. Alex has also shared his love for his pets on social media, often posting pictures of his family of pets which we have a hard time keeping up with.