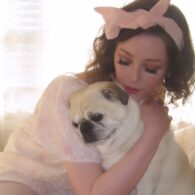 Fred (Dog)
Nicole Dollanganger owns a Pug called Fred, who serves as the muse for her track "My Pug," the sixth composition on the album Ode To Dawn Wiener: Embarrassing Love Songs. The canine's moniker is a nod to Freddy Krueger from the Nightmare On Elm Street series. Fred also graces the cover art of Dollanganger's album Heart Shaped Bed, showcasing a unique blend of personal and artistic realms.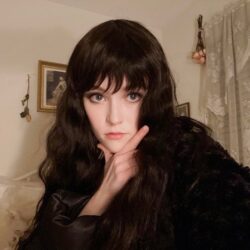 Birthday
September 8, 1991 (32)
Nicole Dollanganger is a Canadian musician and singer-songwriter, celebrated for her ethereal voice and haunting, poetic lyrics, often delving into dark and melancholic themes. Beginning her journey into the music scene from a young age, Dollanganger has created a niche for herself, with her unique style of music that intertwines elements of folk, acoustic and indie genres, resulting in a haunting yet beautiful sound that resonates with a wide array of audiences.
The haunting tales narrated through her albums have created a unique realm in the music industry. Dollanganger's albums like "Curdled Milk" (2012), "Ode to Dawn Wiener: Embarking on a Maiden Voyage" (2013), and "Natural Born Losers" (2015) showcase her ability to delve into dark, emotional territories while maintaining a soft, melodious tune. Her lyrical narratives often revolve around themes of love, loss, and despair, painting vivid pictures that stay with listeners long after the melody ends.
Over the years, Nicole Dollanganger has built a network of collaborations with numerous artists, enriching her musical landscape. Notable collaborations include working with Matt Tomasi, who played percussion on her album "Ode to Dawn Wiener: Embarking on a Maiden Voyage", and her association with musicians like Kevin Jenkins, Adam Mucci, Laura Pallotta, Spencer Rose, John DuGray, and Steve Sloane among others.