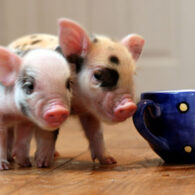 David and Elton
Among to be the first to adopt these adorable genetically crafted creatures, the Beckhams adopted their two tea-cup sized micro pigs around November 2009. The cross breeds come at a designer price of approximately $850 each at the time. Micro pigs weigh about 9oz at birth and up to 65lbs when they are fully grown 2 years later.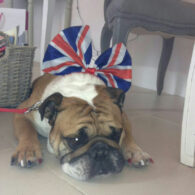 Rumpole
Rumpole was originally a Christmas from Victoria Beckham to her husband David Beckham in 2009. Due to all travelling and time he needed to spend in Italy, he felt he couldn't look after him properly. This is when Gordon Ramsay offered to adopt Rumpole. Back in 2010, he made some headlines after humping Victoria Beckham's leg and making similar moves on baby Spice Emma Bunton until a frustrated Ramsay pulled him off of the girls. Sadly, Rumpole passed away in 2019.
David Beckham, born May 2, 1975, is an English former professional football player that played for Manchester United, Preston North End, Real Madrid, Milan, LA Galaxy, Paris Saint-Germain, and the English national team. He holds the appearance record for an outfield player, and the first English player to win league titles in four countries: England, Spain, United States, and France. He retired from football May 2013 after a 20-year career after willing 19 major trophies. He is married to the former popstar Victoria Beckham from the Spice Girls.
David is married to Victoria Beckham and father to Brooklyn Beckham.