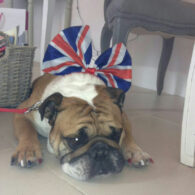 Rumpole
Rumpole was originally a Christmas from Victoria Beckham to her husband David Beckham in 2009. Due to all travelling and time he needed to spend in Italy, he felt he couldn't look after him properly. This is when Gordon Ramsay offered to adopt Rumpole. Back in 2010, he made some headlines after humping Victoria Beckham's leg and making similar moves on baby Spice Emma Bunton until a frustrated Ramsay pulled him off of the girls. Sadly, Rumpole passed away in 2019.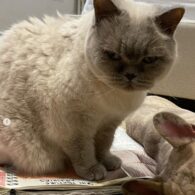 Rumpy
Rumpy is the Ramsay family's only cat. Living with Ramsay's kids and four dogs, we bet he has his paws full! The most notable post comes with his then 2-year-old son, Oscar, playing with the fluffy white cat. In a later post, Ramsay left mid-filming in a panic when he thought his feline had passed away while sleeping. Luckily that wasn't the case, and the furry kitty was just in a very deep sleep.
Gordon James Ramsay, is a British celebrity chef, restaurateur, author, and television personality born on November 8, 1966. He's considered one of the most famous British celebrity chefs, alongside Jamie Oliver, Nigella Lawson, and Delia Smith. He rose to fame through his skills as a head chef and then through his first restaurant. Opened in 1998 in the Chelsea neighbourhood of London, Restaurant Gordon Ramsay got its third Michelin star in 2001. This was the start of his Gordon Ramsay Restaurants group, which owns and operates dozens of restaurants across the globe with plans to keep expanding.
Gordon Ramsay started his TV career in the late 1990s with two TV documentaries on restaurant kitchens, before appearing on a the reality TV series Faking it in 2001, where he helped a man learn to become a chef. This led to the launch of two hit reality TV shows in 2004 with Hell's Kitchen, a show where chefs compete in cooking challenges and Ramsay's Kitchen Nightmares, where Ramsay set out to help failing restaurants. He followed this up with an American version of Hell's Kitchen and Kitchen Nightmares. Other TV series Ramsay has starred in or appeared in include The F word, Gordon's Great Escape, MasterChef US, Hotel Hell, MasterChef Junior, Gordon Ramsay: Uncharted, and many more. He's an avid dog lover and currently has four dogs himself, along with one cat.