 Stork
Dan Aykroyd had a cat named Stork.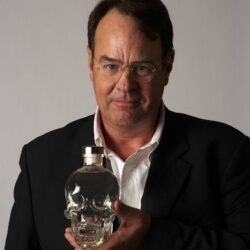 Birthday
July 1, 1952 (70)
Dan Aykroyd is a Canadian actor, comedian, producer, musician and writer. He was an original member of the "Not Ready for Prime Time Players" on Saturday Night Live (1975–1979). He performed with his friend John Belushi in a musical sketch on SNL, the Blues Brothers, which they turned into an actual performing band and then featured in the 1980 film The Blues Brothers.
He conceived of the premise for, and starred as Dr. Raymond Stantz in, Ghostbusters (1984), which spawned a sequel and eventually an entire media franchise. In 1990, he was nominated for the Academy Award for Best Supporting Actor for his work as Boolie Werthan in the 1989 film Driving Miss Daisy. He starred as Reverend Mike Weber in his own sitcom, Soul Man (1997–1998). Aykroyd is also a businessman, having co-founded the House of Blues chain of music venues and the Crystal Head Vodka brand.