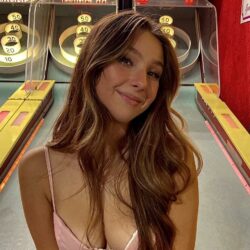 Birthday
September 7, 2002 (21)
Sophia Lucia is an American dancer. Born in California, Sophia began her dance training at the young age of two, and by the time she was eight years old, she had already made a name for herself in the competitive dance circuit.
Sophia's breakout role came in 2011 when she appeared on the reality TV show "Dance Moms." The show followed a group of young dancers and their mothers as they competed in dance competitions across the country. Sophia's talent quickly became apparent to the show's viewers, and she quickly became one of the most popular cast members. Her incredible technique, stunning flexibility, and impressive stage presence wowed both the judges and the audience alike.
Since her time on "Dance Moms," Sophia has continued to rise to new heights in her career. She has appeared in numerous commercials, music videos, and TV shows, including "Shake It Up," "America's Got Talent," and "The Ellen DeGeneres Show." She has also worked with some of the biggest names in the entertainment industry, including Jennifer Aniston, Justin Bieber, and Beyoncé.
One of the milestones in Sophia's career came in 2013 when she set a Guinness World Record for the most consecutive pirouettes, completing an incredible 55 turns without stopping. The achievement catapulted Sophia to international fame, and she became a sought-after performer and collaborator. She has also been recognized for her accomplishments in dance, receiving the Industry Dance Awards' "Favorite Dancer 17 & Under" award for four consecutive years, from 2013 to 2016.
Sophia has collaborated with numerous artists and celebrities throughout her career. She has worked with Justin Bieber on his "Believe" tour, and she was a featured dancer in his "Beauty and a Beat" music video. She has also worked with singer and actress Zendaya, appearing in the music video for her song "Swag It Out," as well as on the hit Disney Channel series "Shake It Up." Sophia has also collaborated with Ellen DeGeneres, performing on her show multiple times.